Cisco Says Global Cloud Traffic to Grow and 2 Other Dow Movers to Watch
Cisco Systems Inc. (NASDAQ:CSCO): Current price $23.30
In the third annual Cisco Global Cloud Index (2012-2017) released on Tuesday, Cisco predicted that worldwide cloud traffic, the quickest-growing component of data center traffic, will grow 4.5-fold, marking a 35 percent combined annual growth rate, from 1.2 zettabytes of yearly traffic in 2012 to 5.3 zettabytes by 2017. Overall global data center traffic will grow by a factor of three and reach a total of 7.7 zettabytes per year by 2017, according to Cisco. A zettabyte is 1 billion terabytes, with 1 terabyte being 1 trillion (short scale) bytes.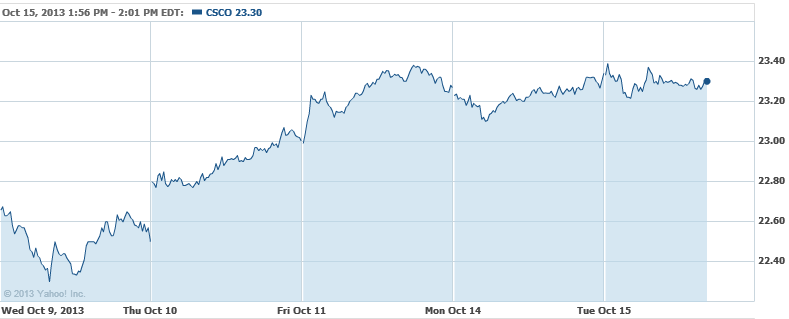 AT&T Inc. (NYSE:T): Current price $33.87
AT&T Government Solutions has won a place by the U.S. Army on a $4.1 billion, five-year indefinite delivery-indefinite quantity contract for the provision of Communications and Transmission Systems for the Project Manager, Defense Communications and Army Transmission Systems. Through the terms of the contract, AT&T will provide the Army with a full suite of communications services, among which include satellite, fiber optic, microwave, over-the-horizon, radio, and wireless capabilities, together with all ancillary support services.

Verizon Communications Inc. (NYSE:VZ): Current price $46.59
Effective immediately, Verizon Enterprise Solutions is expanding the availability of its next-generation cloud-based identity platform — Verizon Universal Identity Services — to Europe. The platform, prior to this available only in the United States, also sports new user-friendly features that include updated mobile apps, Quick Response code-enabled access, and a simplified end-user interface that help make identities easier to manage and use. Verizon Universal Identity Services employs multi-factor authentication to verify users by combining an individual's username password with a computing device that generates a one-time password or a biometric scan, like fingerprint recognition.

Don't Miss: New App Shows Apple's Gold iPhone 5S Is Still in High Demand.