Cisco Systems, Inc. Earnings: Margins Narrow During Challenging Quarter
S&P 500 (NYSE:SPY) component Cisco Systems, Inc. (NASDAQ:CSCO) reported its results for the third quarter. Cisco Systems, Inc. is a multinational corporation engaged in the design, manufacturing and sales of Internet Protocol-based consumer electronics, networking, and other services related to communications and information technology.
Don't Miss: Wall St. Cheat Sheet's newest Feature Trades of the Month!
Cisco Systems Earnings Cheat Sheet for the Third Quarter
Results: Net income for the networking and communication devices company fell to $1.8 billion (33 cents/share) vs. $2.19 billion (37 cents/share) a year earlier. A decline of 17.9% from the year earlier quarter.
Revenue: Rose 5.1% to $10.9 billion YoY.
Actual vs. Wall St. Expectations: CSCO fell short of the mean analyst estimate of 37 cents/share. Estimates ranged from 35 cents per share to 39 cents per share.
Quoting Management: "This quarter played out as we expected," said John Chambers, chairman and CEO, Cisco. "We have acknowledged our challenges. We know what we have to do. We have a clear game plan, and we are a company with a track record of market-shaping innovation. We thank our shareholders, employees, customers and partners as we transition to the next phase of Cisco."
Key Stats: Last quarter marked the fifth straight quarter that the company saw shrinking gross margins as gross margin fell 2.5 percentage points to 61.4% from the year earlier quarter. Over that time, margins have contracted on average 1.9 percentage points per quarter on a year-over-year basis.
The company has now seen net income fall in each of the last two quarters. In the second quarter, net income fell 17.9% from the year earlier quarter.
Over the last five quarters, revenue has increased 16.9% on average year over year. The biggest increase came in the third quarter of the last fiscal year, when revenue rose 27% from the year earlier quarter.
Competitors to Watch: Hewlett-Packard Company (NYSE:HPQ), Juniper Networks, Inc. (NYSE:JNPR), Alcatel-Lucent (NYSE:ALU), Microsoft Corporation (NASDAQ:MSFT), Intl. Business Machines Corp. (NYSE:IBM), Extreme Networks, Inc (NASDAQ:EXTR), Telefonaktiebolaget LM Ericsson (NASDAQ:ERIC), Motorola Mobility Hldgs. Inc (NYSE:MMI), NetGear, Inc. (NASDAQ:NTGR), and ADTRAN, Inc. (NASDAQ:ADTN)
Stock Performance: Shares of CSCO are flat from the previous close.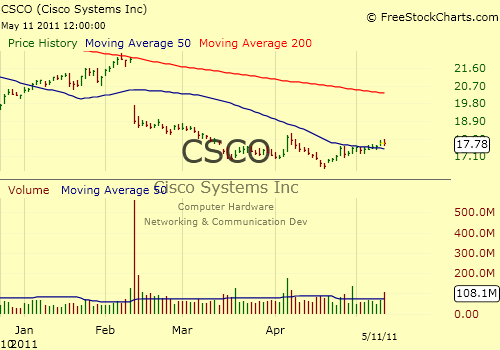 Don't Miss Wall St. Cheat Sheet's newest Feature Trades of the Month!