Cisco Targets City Governments and 2 Dow Movers to Track
American Express Company (NYSE:AXP): Current price $59.66
It appears that two chief executives of major firms are now on the short list of candidates to join President Obama's cabinet, says The Hill. Chief Executive Kenneth Chenault of American Express could be nominated as Treasury Secretary, although the  current White House chief of staff Jack Lew is thought to have the inside track. Xerox Corporation (NYSE:XRX) Chief executive Ursula Burns could be tapped as Secretary of Commerce, The Hill added. However, Energy Secretary Steven Chu might retire, Transportation Secretary Ray LaHood could also exit, and the President must find a new head for the Environmental Protection Agency.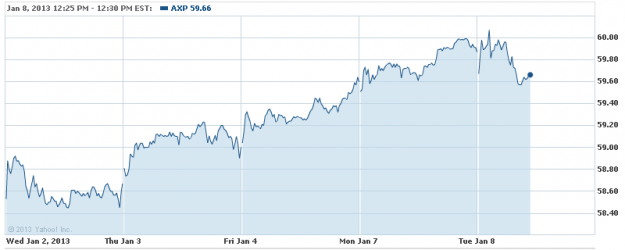 Save time and make money with our LOWEST ADVERTISED PRICE EVER to help you achieve your financial goals in 2013. This is a LIMITED TIME OFFER, so get your Stock Picker Newsletter now!
Caterpillar (NYSE:CAT): Current price $93.69
Caterpillar Financial Services Corporation has reached a deal with Northern Graphite to provide financing for the purchase of as much as $17.5  million in Cat mining and Cat power equipment for the latter's Bissett Creek graphite project. Cat Financial has preliminarily indicated its additional interest in joining in a Project Debt Facility upon the receipt of an Information Memorandum concerning such a move and its agreement with the terms and conditions therein.

Are these stocks a buy or sell? Let us help you decide. Check out our Stock Picker Newsletter now.
Cisco Systems (NASDAQ:CSCO): Current price $20.15
Cisco is searching for city governments to be among its largest customers. The company that enables increasingly more rapid Internet connections has moved into master planning, equipping, and otherwise the advisment of city governments. Additionally, Cisco intends to hold a yearly "Impact Forum", implying a future where its leaders get down with city planners to digitally repair urban ills.

Don't Miss: What Does the Seaway Pipeline Mean for U.S. Crude?