Cisco TelePresence Goes to the Canary Islands and 2 Other Dow Movers to Watch
Cisco Systems Inc. (NASDAQ: CSCO): Current price $23.34
The government of Gran Canarias has commissioned a telepresence service based on the Cisco TelePresence platform. This is an emerging project in Spain that allows representatives of the public administration of Canarias to conduct virtual "face to face" meetings without the necessity of travel between the islands, helping to save costs and accelerate their decision-making. The initiative forms part of the Canarias government's policy for saving costs and fostering innovation, taking special consideration for the geographical peculiarities of the community.

Boeing Co. (NYSE:BA): Current price $133.57
Boeing announced that it has delivered a 777-300ER jet to GE Capital Aviation Services for lease to Ethiopian Airlines. The 777-300ER is currently the biggest airplane in the Ethiopian flag-carrier's fleet and should afford it increased capacity and improved operating economics on key routes from its base in Addis Ababa. Ethiopian's first 777-300ER will seat close to 400 passengers in a two-class configuration, and it complements its present fleet of six 777-200LR airplanes by supplying additional capacity and flexibility on popular routes like Guangzhou, Washington, D.C. and Dubai.

UnitedHealth Group Inc. (NYSE:UNH): Current price $70.09
UnitedHealth said Friday that its board authorized payment of a quarterly shareholder dividend of 28 cents for the fourth quarter of 2013. The dividend will be paid on December 17 to all shareholders of record of UnitedHealth Group common stock as of the close on December 6.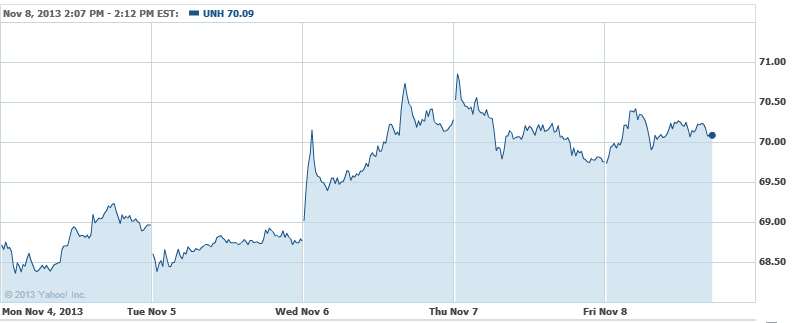 Don't Miss: What Would Elop's Microsoft Look Like?