Cisco to Fight Microsoft Skype Purchase and 2 More Heavily Traded Stocks to Follow
Cisco Systems (NASDAQ:CSCO): Current price $23.87
On Wednesday, Cisco will attempt to convince the second-highest court in Europe that it should overturn the European Union's approval of Microsoft Corporation's acquisition of Skype. If Cisco sees victory in the challenge at the general court in Luxembourg, the European Commission would be required to annul its decision, which permitted Microsoft to buy the Internet video and voice firm without needing to make any concessions. Cisco is appealing alongside the Italian fixed-line and Internet telephone provider Messagenet, and will contend that the Commission made several "manifest errors" in appraising the $8.5 billion Microsoft-Skype transaction. It is anticipated that Cisco will argue that the combined company's dominant share in the communications market affords it the ability and the incentive to refuse to supply data that would enable competitors to work with the merged firm's products.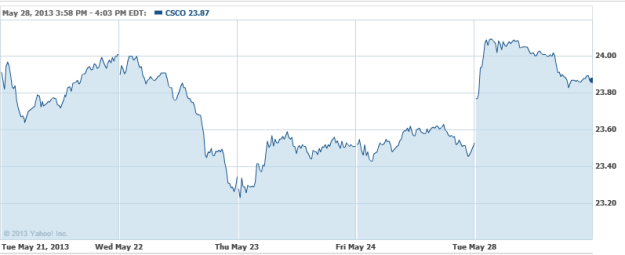 Advanced Micro Devices (NYSE: AMD): Current price $4.04
AMD announced Tuesday that its lowest-power accelerated processing unit for tablet, hybrid and clamshell notebook PCs has won the 2013 Best Choice of COMPUTEX TAIPEI award, making for the third straight win for AMD. The award is bestowed by the Taipei Computer Association, a driving player behind the annual event and the top tech organization in that country. Available in dual and quad-core configurations, the new 2013 AMD Elite Mobility ultra low power APU, codenamed "Temash," represents first quad-core x86 system-on-a-chip (SoC) in the world, created for tablet and hybrid PCs. The new APUs are designed to provide the best entertainment and productivity experiences in the widest range of highly mobile devices, ranging from media tablets to performance tablets, hybrids and small-screen touch notebooks, 13-inches and under.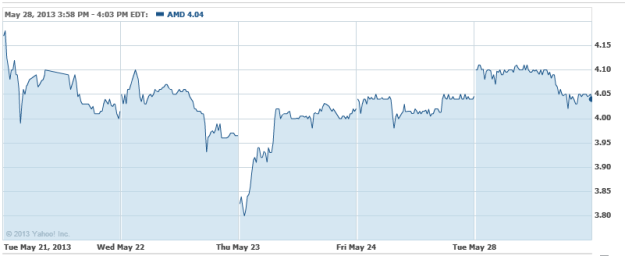 Bank of America Corporation (NYSE:BAC): Current price $13.32
On Wednesday, Bank of America's 6.204-percent non-cumulative preferred stock, series D will trade ex-dividend, for its quarterly dividend of 38.77 cents, payable on June 14. As a percentage of BAC.PRD's recent share price of $25.71, this dividend will be roughly 1.51 percent, so it is expected that shares of BAC.PRD should trade 1.51 percent lower when they open for trading on May 29. On an annualized basis, the current yield is bout 6.05 percent, versus an average yield of 4.97 percent in the Financial preferred stock category, says Preferred Stock Channel.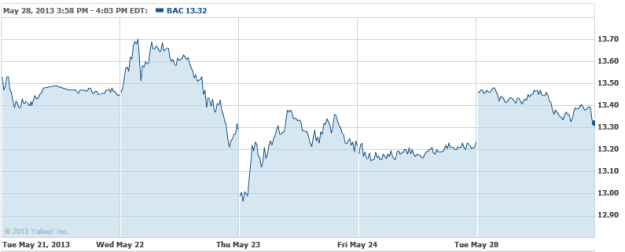 Investing Insights: Is Facebook A Buy?