Cisco Will Acquire Energy Manager JouleX and 2 More Dow Movers to Watch
Cisco Systems (NASDAQ:CSCO): Current price $24.18
Cisco has agreed to purchase JouleX at a price of $107 million, through which it will gain software that assists firms in the management of power usage as mobile devices ignite a surge in data traffic. The transaction includes cash and retention-based incentives, and should close in the fiscal fourth quarter, according to a Cisco statement on Wednesday. CEO John Chambers is ramping up investments in data networks in order to accommodate users who are more and more depending on smartphones and tablets to watch video and to surf the Web. The addition of JouleX's programs and services for managing energy-consumption over corporate networks will aid Cisco in the diversification beyond hardware, where growth is slumping.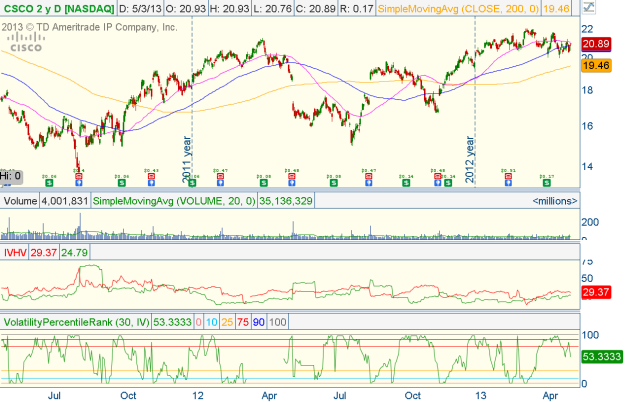 AT&T (NYSE:T): Current price $36.03
On Wednesday, AT&T announced the intro of AT&T Mobile Workplace, its cloud-based solution created to simplify the manner in which companies access and share content with coworkers and teams across multiple devices. Using Mobile Workplace, employees may now work remotely without missing anything, as they seamlessly access, share, edit and create content through their mobile devices. The Workplace is available as a web-based solution supported by a desktop agent, or mobile application that can be accessed and synched on web-connected devices. The service may be self-installed and is supported by 24/7 United States-based remote, technical support from AT&T when needed.

McDonald's Corporation (NYSE:MCD): Current price $99.15
The Street reports that the ex-dividend date for McDonald's is May 30th. Shareholders as of market close Wednesday will be eligible for a dividend of 77 cents per share. As of 9:30 a.m. Eastern Time, at a price of $100.62, the dividend yield is 3.1 percent. McDonald's current market cap stands at $100.55 billion, and the company is part of the services sector and leisure industry. Shares were up 13.7 percent thus far in 2013 as of the close on Tuesday.

Don't Miss: Can SanDisk See Higher Prices?