Citi Adds Support to Credit Unions Group and 2 Other Hot Stocks to Watch
Citigroup (NYSE:C): Current price $51.90
On Thursday, the National Federation of Community Development Credit Unions announced a couple of far-reaching initiatives investing in the future of community credit unions. The projects are funded by $375,000 in contributions from Citi Community Development, and both will help establish the systems and the leadership required to continue providing high-quality financial services to low- and moderate-income communities in the United States. Concurrently, an additional $250,000 in support from Citi will permit the Federation to create uniform, shared procedures for back-office processing and services, among which include technical support, member service and accounting support teams. The new procedures should boost efficiency and facilitate consistent delivery of services to millions of families who now see limited access to affordable financial products and services.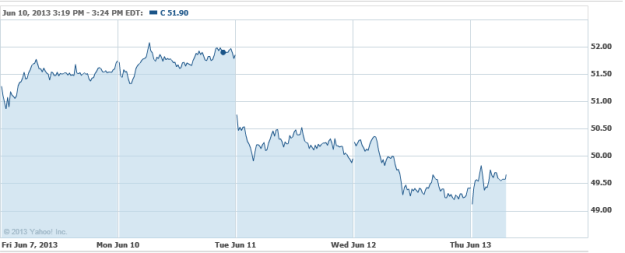 Ford Motor Company (NYSE:F): Current price $15.35
Ford investors saw new options begin trading Thursday, for the July 12 expiration, according to DividendChannel. Stock Options Channel's YieldBoost formula  identified one put and one call contract of particular interest the put contract at the $15 strike price has a current bid of 36 cents. Should investors sell-to-open that put contract, they are committing to buy the stock at $15, but they would also collect the premium, placing the cost basis of the shares at $14.64 (before broker commissions), said the Channel, which added that for investors already looking to buying Ford shares, the play could represent an alternative to paying $15.20 per share Thursday.

First Solar (NASDAQ:FSLR): Current price $45.78
First Solar announced on Thursday the pricing of an underwritten public offering of 8.5 million shares of its common stock at a price of $46 per share. The offering should close on June 18th, subject to the usual conditions. Also, the company has granted the underwriters a 30-day option through which to buy as many as 1.275 million shares. First Solar will use the net proceeds for general corporate purposes, which might include purchases of under development photovoltaic solar power system projects, investments in photovoltaic solar power system projects which would be jointly developed with its strategic partners, and capital expenditures or strategic investments to develop certain business units and expand in new geographies.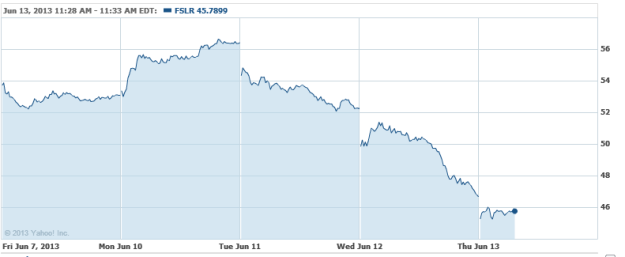 Don't Miss: JPMorgan Proves It's the Best Bank in Town.