Citi Says It Faces New Foreign Exchange Inquiries and 2 Other Hot Stocks to Watch
Citigroup Inc. (NYSE:C): Current price $48.66
Citigroup reported on Friday that its foreign exchange trading is indeed being looked into by United States government agencies and authorities from other jurisdictions. Already this week, the bank placed its chief currency dealer in London on leave in a move that reflects developments at several banks based in Europe, and at JPMorgan Chase & Co. (NYSE: JPM), the number one U.S. bank. The actions occur during investigations by regulators of possible manipulation of currency markets.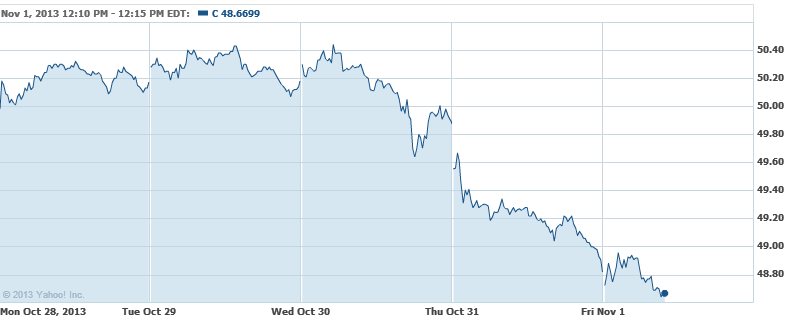 Hewlett-Packard Co. (NYSE:HPQ): Current price $25.41
On Friday, The Government Accountability Office announced that Harris Corp. (NYSE: HRS) had lost its challenge of a $3.5 billion five-year contract awarded to Hewlett-Packard to run the United States Navy's communications network. The GAO confirmed the decision, but has not released its findings. Senior Vice President and General Manager for an HP Division Marilyn Crouther, remarked in a statement that, "The Navy has selected the right team for the challenges ahead, bringing to sailors and marines new and innovative thinking coupled with more than a decade of experience building and operating the network."

Office Depot Inc. (NYSE:ODP): Current price $5.73
The proposed merger of Office Depot and OfficeMax has been given the nod from the Federal Trade Commission, eliminating a crucial regulatory roadblock from the process. The parties agreed to a $1.2 billion combination back in February. The FTC said that its seven month inquiry showed that the combination will not likely to cause competitive damage. It is now anticipated that the transaction will close on Tuesday.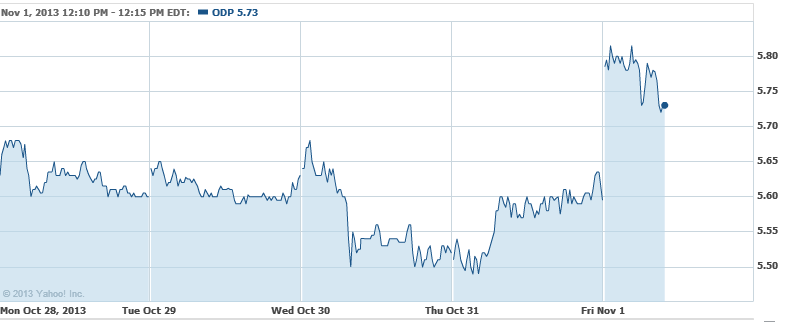 Don't Miss: 4 Ongoing Crises Americans Must Live With.