Citi Sets Money Aside and 2 More Heavily Traded Stocks
Citigroup (NYSE:C): Closing price $46.00
On Monday, Citi said that it is reserving less money to cover losses on loans, and the bank is more and more confident about the recovery of the domestic housing market, according to MarketWatch. The firm lost billions of dollars during the 2008 financial crisis following its issuance of risky loans to subprime homeowners who subsequently failed to make payments on their mortgages, setting off a wave of foreclosures not seen since the Great Depression. At the peak of the crisis, Citigroup received $45 billion from the United States Treasury, representing the largest share of the federal government's bank bailout. As part of its latest quarterly results, Citi announced a first-quarter loan loss reserve release of $652 million, which is down 44 percent year-over-year from 2012. Citi Holdings had a net loan loss reserve release of $351 million.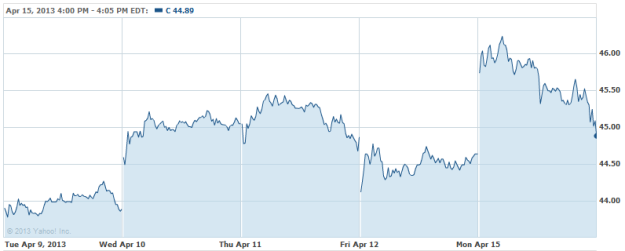 Sprint Nextel Corporation (NYSE:S): Closing price $7.08
DISH Network (NASDAQ:DISH) has offered to acquire Sprint Nextel at a cash-and-stock price of $25.5 billion, a move that could block the proposed purchase of Sprint by Japan's SoftBank. Sprint shares jumped as much as 17.8 percent following the announcement, to their highest level since August 2008 and slightly surpassed the value of the DISH bid. The latter had already made a counter-offer against Sprint for Clearwire Corporation (NASDAQ:CLWR), the wireless firm majority-owned by Sprint. It was also the boldest step thus far by DISH Chairman Charlie Ergen, who has purchased billions of dollars worth of wireless spectrum in the last few years.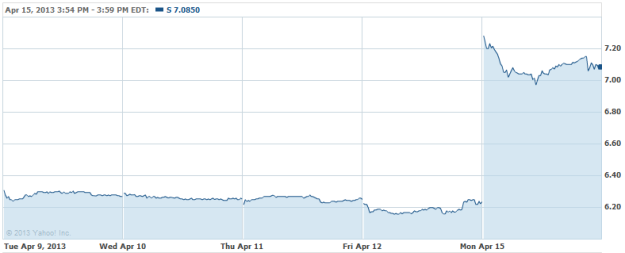 Barrick Gold Corp. (NYSE:ABX): Closing price $19.76
Uncertainty at Barrick Gold Corp.'s Pascua-Lama mine prompted JPMorgan to downgrade the stock on Monday, according to Financial Post. Analyst John Bridges downgraded his rating on the gold miner from Overweight to Neutral and sharply cut his price target to $34 from $47. Shares slid over 15 percent last week after a Chilean court ordered the firm to halt construction at the mine because of complaints regarding environmental damage in the area.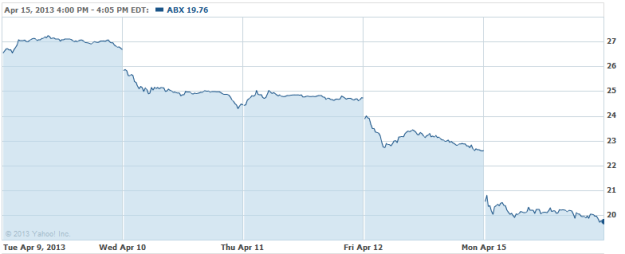 Don't Miss: Are the Biggest Banks Ready to Spark Home Loan Strength?