Citi to Leave Emirates Interbank Offered Rate and 2 Other Hot Stocks to Watch
Citigroup (NYSE:C): Current price $51.66
On Monday, it was announced that Citi will exit the interbank interest rate setting panel in the United Arab Emirates on June 25, thus lowering the size of the panel  from 12 to 11 banks. The change will further swell the dominance of local banks over foreign in the panel that sets the rate known as Eibor, which is used to price financial instruments in the Gulf's number-one banking center. A Citi spokesman would not comment why it is withdrawing when contacted by Reuters. The central bank said that the exit followed Citi's "globally implemented policy." Since 2012′s scandal concerning manipulation of the Libor, banks have been considering withdrawing from panels which set indicative interbank rates, as they ponder dubious benefits of participation compared the potential risks to their reputations.

Rite Aid Corporation (NYSE:RAD): Current price $3.14
After Rite Aid's announcement of the beginning of a debt refinancing transaction and a strong outlook for first-quarter fiscal 2014, shares of hit a new 52-week high, touching $3.08 on Jun 7. The closing price was $3.03, up by about 4.5 percent from the 6th close at $2.90. So as to extend the maturity of some debts and reduce its  interest expenses, Rite Aid has initiated a debt refinancing activity, involving a tender offer of $500 million second-lien term loan for 7.5-percent senior secured notes worth $500 million.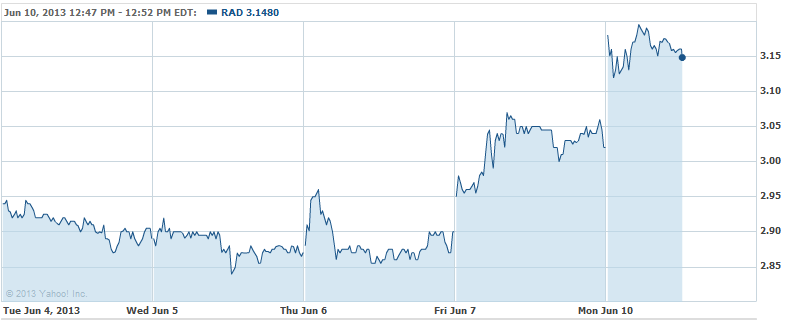 Intel Corporation (NASDAQ:INTC): Current price $24.96
Inside sources say that the corporation's discussions to buy content from media firms for its new TV service are moving along, and that it is offering to pay up to 75 percent more than traditional cable rates. The sources also said that Intel has thus far not closed on any programming deals. CBS, News Corp and Viacom have made agreements with Intel on various details on content distribution on the service the chipmaker intends to commence later in 2013, said one person familiar with the situation. Comcast's NBC Universal is continuing its negotiations with Intel but they are not as advanced as with others firms, according to  another inside source.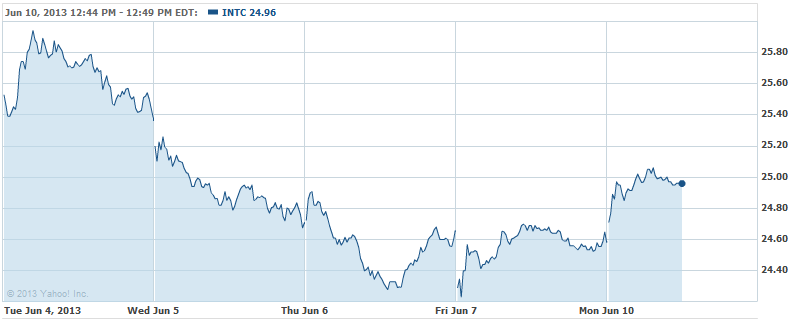 Don't Miss: 5 Ways Regulators Are Killing 'Too Big To Fail'