Citi to Sell Remaining Retail Brokerage Holdings and 2 Other Hot Stocks to Watch
Citigroup (NYSE:C): Current price $46.73
Citigroup will sell the remainder of its retail brokerage holdings to Morgan Stanley (NYSE:MS) in the coming weeks at a price of $4.7 billion following regulators signing off on the purchase. The final transaction will complete a process that began in 2009, when Morgan Stanley reported that it was effectively acquiring Citigroup's Smith Barney brokerage business over time. The transaction was designed during the financial crisis era to supply extra capital to Citigroup, and to afford Morgan Stanley stable revenue after it was impacted by trading losses in its investment bank. The two parties merged their retail brokerage businesses into a joint venture, while Morgan Stanley owns a slim majority. The latter's stake increased over time to 65 percent, and it said on Friday that will purchase the remaining 35 percent sometime around June 28th.

Sprint Nextel Corporation (NYSE:S): Current price $6.97
On Friday, SoftBank Chief Executive Masayoshi Son said that he is confident that his firm's purchase of Sprint will be finalized in early July after rival bidder DISH Network Corporation (NASDAQ:DISH) made it clear that it has abandoned its efforts to buy Sprint. Besides the gigantic acquisition, Sprint is also collaborating with SoftBank to purchase the small wireless firm Clearwire Corporation. Meanwhile, in a regulatory filing DISH said in that it was returning to bondholders the $2.6 billion in debt it had brought together to fund the proposed acquisition.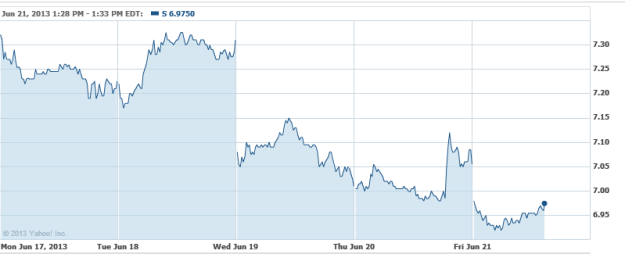 Cisco Systems (NASDAQ:CSCO): Current price $24.51
Over 20,000 customers and partners are expected gather next week in Orlando, at Cisco's premier customer event, Cisco Live! to be educated, network, and share with their colleagues and industry experts. Anyone who is unable to attend the conference in person can attend virtually, and see keynotes and other sessions at no cost by registering at Cisco Live 365, on which press conferences and customer roundtable discussions will be streamed live and replayed by means of Ustream for press and analysts.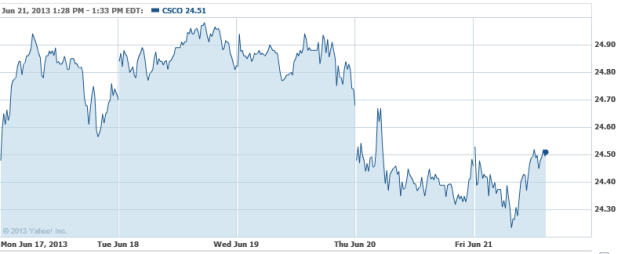 Don't Miss: Will Morgan Stanley's New Buy Change the Bank for Good?