Citigroup Earnings: Bad News Still Better than Expectations
S&P 500 (NYSE:SPY) component Citigroup Inc. (NYSE:C) posted a decrease in profit as revenue declined. Citigroup Inc. is a financial services holding company which provides corporations, governments, and consumers with a broad range of financial products and services.
Don't Miss: Wall St. Cheat Sheet's newest Feature Trades of the Month>>
Citigroup Earnings Cheat Sheet for the First Quarter
Results: Net income for Citigroup Inc. fell to $3 billion (15 cents/share) vs. $4.43 billion (15 cents/share) a year earlier. A decline of 32.3% from the year earlier quarter.
Revenue: Fell 38.8% to $19.73 billion YoY.
Actual vs. Wall St. Expectations: C beat the mean analyst estimate of 9 cents/share. Estimates ranged from 5 cents per share to 12 cents per share.
Quoting Management: "After a full year of profitability, we continue to make progress in 2011 by executing our strategy with discipline. Citi Holdings losses continued to decrease; we are investing in our core businesses in Citicorp; our capital strength improved; and the mix of revenues reflects the diversity of our businesses and our depth in both the emerging and developed markets," said Vikram Pandit, Chief Executive Officer of Citigroup.
Competitors to Watch: Bank of America (NYSE:BAC), Deutsche Bank (NYSE:DB), JPMorgan Chase (NYSE:JPM), HSBC (NYSE:HBC), Metlife (NYSE:MET), PNC (NYSE:PNC), U.S. Bancorp (NYSE:USB), Financials (NYSE:XLF) and Wells Fargo & Company (NYSE:WFC).
Today's Performance: Shares of C are trading at $4.47, up 1.13% from the previous close.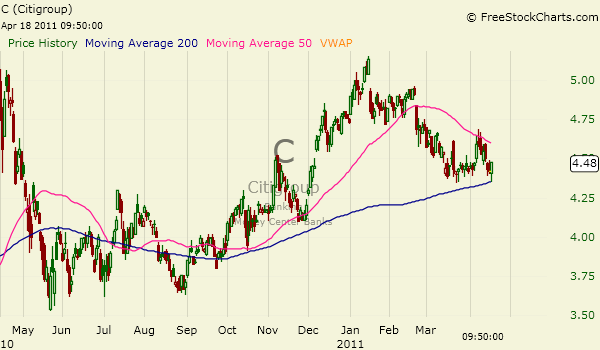 Don't Miss Wall St. Cheat Sheet's newest Feature Trades of the Month!