Citigroup Joins League of Big Banks Beating Earnings Expectations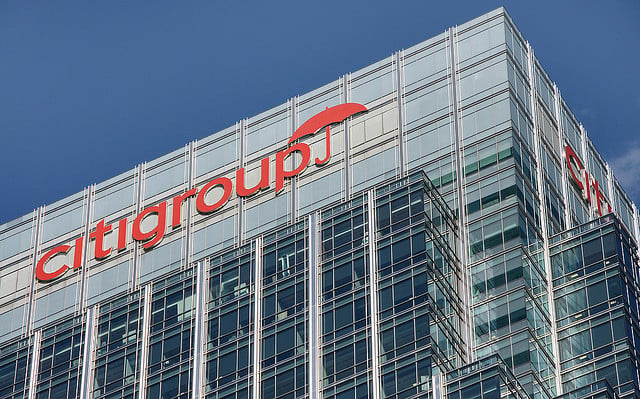 Citigroup (NYSE:C) stock jumped nearly 2 percent in early trade on Monday, after the bank reported second-quarter earnings that beat analyst estimates. Revenues climbed 11 percent on the year to $20.5 billion, beating the average estimate of $19.79 billion. Adjusted earnings climbed 25 percent on the year to $1.25 per share, beating the average estimate of $1.18 per share.
The strong performance was the result of a number of factors. Net credit losses declined 25 percent on the year to $2.6 billion, a welcome break born on the back of rising house prices. Citigroup was also able to draw down its reserves against loan losses by $784 million, which boosted earnings.
On the top line, revenue from fixed income markets climbed 17 percent to $3.37 billion, while equity market revenue climbed 68 percent to $942 million.
Earlier in July, RBC Capital Markets analyst Gerard Cassidy suggested that at about $50 per share, Citigroup still had "meaningful upside."
While Citi has already had enormous success, Cassidy believes that a price in the mid $70′s or low $80′s is possible over the next several years. Much of that success is attributed to CEO Michael Corbat and Chairman Michael O'Neill, who are sometimes referred to as the "Two Mikes." Despite nearly failing in 2008-2009 — even briefly falling below one dollar — Citi is now focused on being the top bank in the world.
Onlookers have noted that the combination of O'Neill and Corbat have been critical to Citi's newfound success. They are "capable of running a bank and executing as well," according to Robert Stoll, an analyst at Institutional Capital. "Michael Corbat is more focused and has laid out a clear strategy for executing on things we think are important," Stoll says.
One of the things that sets Citigroup apart from its peers is its international footprint. Corbat has commented that Citi's long-term strategy revolves around the themes of globalization, urbanization, and digitization. As technology becomes increasingly mobile, Corbat wants Citi to be positioned within newly rich populations — Mexico, India, China, and Malaysia, for example — so that it can provide them with services wherever they are, via mobile technology.
Last week, JPMorgan (NYSE:JPM) reported net revenue of $26 billion for the second quarter, up 13 percent ($3.1 billion) on the year. The gain was led by non-interest revenue, which climbed $3.5 billion to $15.1 billion overall, and was offset by a $472-million decline in net interest income to $10.9 billion. JPMorgan noted that the decline in net interest income was primarily due to low interest rates.
Net income increased 31 percent on the year, or $1.5 billion, to $6.5 billion. The firm said the increase was "driven by higher net revenue and lower provision for credit losses, partially offset by higher noninterest expense." Provisions for credit losses were down $167 million on the year. Consumer net charge-offs declined from $2.3 billion in the year-ago period to $1.5 billion this year, or from 2.51 percent to 1.66 percent.
Wells Fargo (NYSE:WFC) reported that revenues declined 5.3 percent on the year to $21.4 billion, but still beat expectations for $21.22 billion. Adjusted earnings increased 19.5 percent on the year to $0.98 per share, ahead of expectations for $0.93 per share.

Don't Miss: Barclays Wins Lawsuit by Dismissal.