Citigroup Q2 Earnings Beat on Investment Bank Profits and 2 Other Hot Stocks to Watch
Citigroup Inc. (NYSE:C): Current price $51.37
On Monday, Citi posted second-quarter earnings that exceeded Wall Street's expectations, as investment banking profits soared. Profit for the quarter came to $3.9 billion after excluding an accounting gain, up 26 percent year-over-year. The figure stands at $1.25 per share, surpassing the $1.18 per share predicted by analysts polled by FactSet. Revenue amounted to $20 billion after subtracting the accounting gain, which was up 8 percent from the same period in 2012, and beat the $19.8 billion forecast by analysts.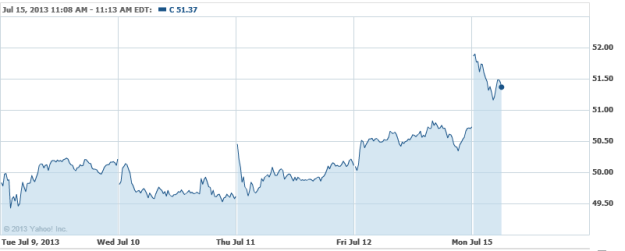 Bank of America Corp. (NYSE:BAC): Current price $13.84
Euromoney magazine has chosen Bank of America Merrill Lynch as its Best Global Small and Medium Size Enterprises Finance House, as part of its Awards for Excellence 2013. The distinction marks the introduction of the SME award category, and the awards are decided on by Euromoney's editorial staff. Along with the Best SME Finance House, Bank of America Merrill Lynch  received several other awards, including: Best Cash Management House in North America (third consecutive year); Best Debt House in North America; and Best Equity House in the United Kingdom.

Oracle Corp. (NASDAQ:ORCL): Current price $31.80
The corporation announced Monday the new release of Oracle's Exalytics In-Memory Machine X3-4. This new system contains important software improvements and hardware updates, which significantly expand the capabilities of the industry's first high-speed engineered system for business analytics. The new Exalytics X3-4 system sports 2 terabytes of main memory, 2.4 of flash storage, and 5.4 terabytes of hard disk. Additionally, Oracle released system upgrades to increase memory capacity for current Exalytics X2-4 customers, and updated software to be used by all Exalytics customers.