Citigroup Sees Hong Kong Lawsuit Go Away and 2 Other Hot Stocks
Citigroup (NYSE:C): Current price $48.15
The Wall Street bank has won dismissal of a lawsuit in Hong Kong, brought by the former private banking client Natamon Protpakorn seeking $17.9 million for damages from currency bets that were liquidated when the bank closed her positions. High Court Judge Jonathan Harris said in the decision  delivered Friday that Citigroup had "good reason" to worry about the sources of Natamon's wealth, adding that such fears "might reasonably be expected to cause it to wish to close her account." Natamon is a Thai national who had previously been a client of UBS, and first sued Citigroup's Hong Kong division in 2005, alleging that the bank had persuaded her to invest in foreign exchange trades in 2001 and then unfairly closed her positions in 2004.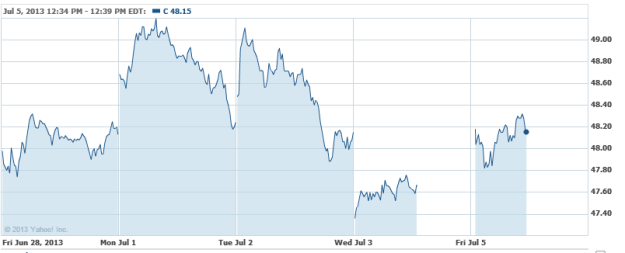 Qualcomm (NASDAQ:QCOM): Current price $60.71
India's number-one telecommunications carrier, Bharti Airtel, announced Thursday that it has hiked its interest to 51 percent in a wireless broadband venture founded by Qualcomm. In 2012, the carrier bought a 49-percent stake in Qualcomm's India 4G broadband venture, but did not reveal how much it paid for the additional 2-percent interest. However, Bharti Airtel did report that the four separate entities that are part of the broadband venture are now its subsidiaries, following the stake increase.

Twenty-First Century Fox (NASDAQ:FOXA): Current price $30.34
Rupert Murdoch was asked new questions on Thursday, following a television broadcast of what seemed to be a clandestine recording of him criticizing the police inquiry of the United Kingdom's phone hacking scandal as "totally incompetent." In a recording that was apparently made in March during a meeting with journalists at Murdoch's tabloid The Sun, he is heard commenting on the investigation that "It's a disgrace. Here we are, two years later, and the cops are totally incompetent. The idea that the cops then started coming after you, kick you out of bed, and your families, at 6 in the morning is unbelievable." In the recording, Murdoch dismissed the investigation as "the biggest inquiry ever, over next to nothing."