Citigroup's $10 Billion Settlement, AIG Declines to Sue Government: Weekly Financial Biz Recap
Here's your Cheat Sheet to this week's top financial industry business headlines:
Are these stocks a buy or sell? Let us help you decide. Check out our Wall St. Cheat Sheet Stock Picker Newsletter now >>
Bank of America Corporation (NYSE:BAC): Current Price $12.05
Ocwen Financial Corporation (NYSE:OCN) is among companies said to be in discussions with BofA to acquire the mortgage servicing rights on more than $300 billion of loans of its loans, say inside sources, who were unsure as to how much each firm might buy of the rights or the prices involved. Other firms reportedly involved are Nationstar Mortgage Holdings and Walter Investment Management Corporation.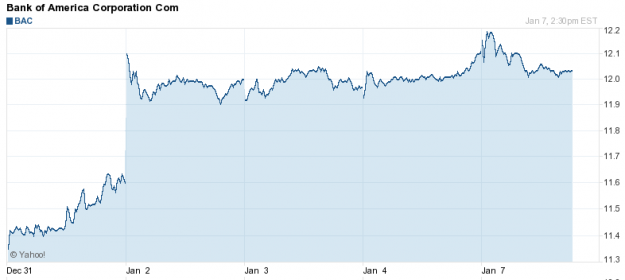 TheStreet (NASDAQ:TST): Current Price $1.65
Former Executive Vice President and Chief Financial Officer Thomas Etergino stepped down from his position as of December 31st, according to an
8-K form
dated last Friday, which said that it was a mutual decision between Etergino and the company. During a transition period, Etergino will continue to receive his current base salary and benefits and upon his formal resignation as an employee of the company, he will receive the benefits set forth in his existing agreements with the TheStreet.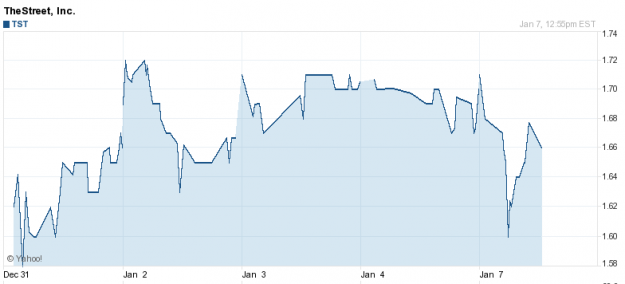 JPMorgan Chase & Co. (NYSE:JPM): Current price $45.30
The National Credit Union Administration has brought a lawsuit in Federal District Court in Kansas against J.P. Morgan Securities, as the successor-in-interest to Washington Mutual Bank, which claims violations of federal and state securities laws in its sale of  $2.2 billion worth of mortgage-backed securities to three corporate credit unions. Other entities charged include WaMu Capital Corp., Long Beach Securities Corp., and WaMu Asset Acceptance Corp.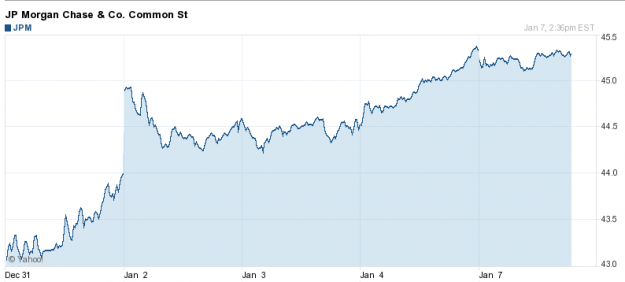 Citigroup (NYSE:C): Current price $42.29
As early as Monday the 7th, a resolution worth $10 billion to settle allegations of foreclosure abuses by 14 of the big lenders could be announced, said knowledgeable sources Sunday, who added that Citigroup, Bank of America and JPMorgan Chase are expected to be on board. The accord has been in the works for many weeks between federal officials and the banks and the named abuses include flawed paperwork and botched loan modifications. Once the settlement is finalized, an estimated $3.75 billion of the $10 billion should be distributed in cash to Americans who went through foreclosure in 2009 and 2010, with the remaining $6 billion for homeowners in peril of losing their homes after falling behind on their payments.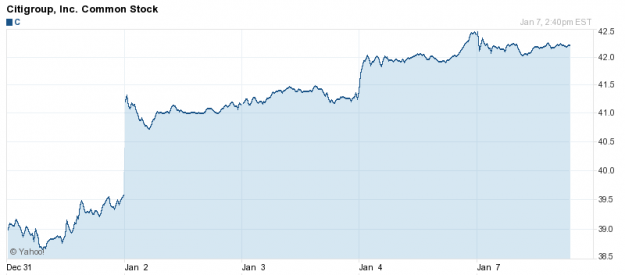 .Goldman Sachs Group (NYSE:GS): Closing price $134.26
An initial public offering is being planned by a German property firm that is owned by the Goldman Sachs investment fund Whitehall, which will constitute one of the first new listings in Europe in 2013. The firm in question is LEG Immobilien, that   specializes in residential property; its IPO could bring as much as $1.3 billion. Shares should commence sales in February, say knowledgeable sources. The announcement is timed well, as many European stock markets have rebounded following the last-minute agreement on the United States budget that was brokered January 1st and 2nd.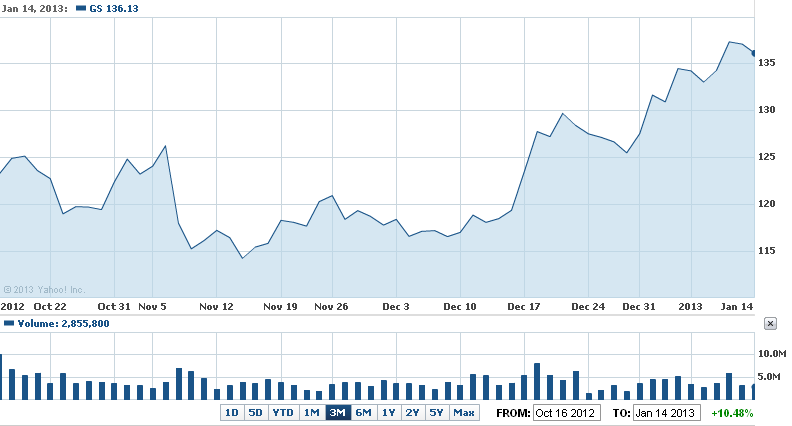 The Royal Bank of Scotland Group (NYSE:RBS): Closing price $10.83
The private-equity consortium lined up by the bidding partnership of JC Flowers and the American equity firm Apollo Global Management (NASDAQ:APO) to acquire 316 branches of Royal Bank of Scotland, has chosen David Morgan to run the banking business if its bid is successful, according to the Sunday Telegraph. Morgan, who was the chief of JC Flowers' European and Asian operations, will assume the role of executive chairman of the bank, should things turn out. The group's offer is reportedly worth as much as $1.61 billion.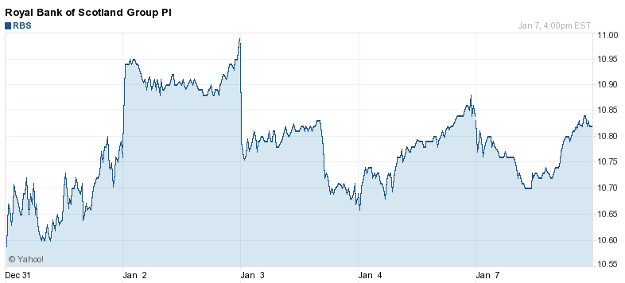 ING Groep (NYSE:ING): Closing price $9.91
More cost reduction seems to be in store for ING, as it deals with new and newer regulations and high provisions for bad loans, showcasing the pressures on banks to make their businesses smaller. On a worldwide basis, lenders are faced with higher capital requirements, so as to mollify regulators during a time when a weak economy shrinks demand for investment banking and credit services, giving them no choice but to cut costs by slashing operations and jobs.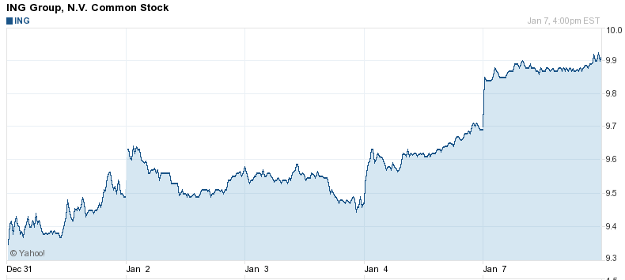 Newcastle Investment Corporation (NYSE:NCT): Closing price $9.60
On Monday, Newcastle agreed to purchase an interest in excess mortgage servicing rights. The total unpaid principal balance of the underlying loans was roughly $215 billion as of November 30th. Further, in a separate transaction on January 4th, the firm bought an interest in the excess MSRs on a $13 billion Ginnie Mae pool. These acquisitions should to bring Newcastle's total investment in the rights to around $610 million and the balance of the underlying loans to more than $310 billion. Newcastle plans to spin off these and certain other residential assets.
Citigroup (NYSE:C): Current price $42.35
The now former chief investment officer of its private bank, Richard Cookson, has been sacked. The lender will no longer depend upon one person to lead its investment strategy and will rather try for "better leverage the existing in-house expertise across Citi," which includes its markets and banking research teams, said an internal memo, a copy of which was obtained by Bloomberg News. In December, Chief Executive Michael Corbat announced that Citigroup will slash some 11,000 jobs while also closing branches and pulling back from certain emerging markets as revenue attenuates at world banks.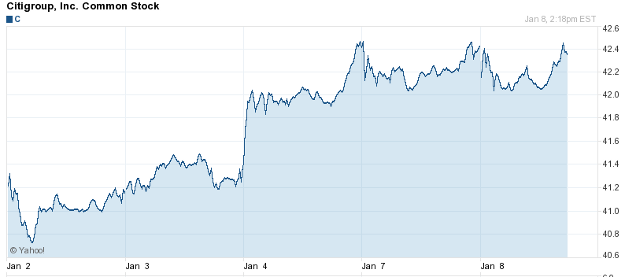 MetLife (NYSE:MET): Current price $36.03
The largest domestic life insurer, MetLife, has been told that the Federal Reserve agreed with an extension of a deadline for it to submit a capital plan until June 30th, while the firm works to exit banking so as to restrict regulatory oversight. Chief Executive Steven Kandarian had been disallowed by the Fed from hiking the dividend or buying back shares while regulators considered how the largest United States banks would do in a financial crisis.
American International Group (NYSE:AIG): Current price $35.64
Now that its $182 billion government bailout has been paid back, AIG has been running a nationwide ad campaign with the tagline "Thank you America." But inside the company, a matter of discussion is whether to officially tell the regulators (by joining a lawsuit) that the government's taking of what became a 92 percent interest led to the deal's high interest rates and the funneling of billions to the insurer's Wall Street clients and deprived shareholders of tens of billions of dollars along with violating the Fifth Amendment which prohibits the taking of private property for "public use without just compensation."
JPMorgan Chase & Co. (NYSE:JPM): Current price $45.24
The former head of the investment bank at J.P. Morgan, James "Jes" Staley, is joining the $12 billion hedge fund BlueMountain Capital as a managing partner, says the Wall Street Journal, which added that Staley is buying a stake in BlueMountain. Inside sources say that Staley will help lead the anticipated growth of the company, which is said to be poised for a standout year in which to add clients and assets.
Goldman Sachs Group (NYSE:GS): Closing price $133.05
Goldman Chief Executive Lloyd C. Blankfein has ceased using its own money to make bets on the bank's behalf, saying that "We shut off that activity." The bank has no longer proprietary traders who "just put on risks that they wanted and didn't interact with clients." The remarks were made to more than 400 persons at a lunch organized by the Economic Club of Washington. However, Bloomberg has uncovered a secretive Goldman Sachs group known as Multi-Strategy Investing, or MSI, which wagers about $1 billion of the firm's own funds on the stocks and bonds of companies, that include a mortgage servicer and a cement producer, said more than 20 people who worked for and with the group, as recently as 2012.
Fifth Street Finance Corp. (NYSE:FSC): Closing price $10.80
Fifth Street said on Tuesday that two new lenders have been added to its syndicated bank credit facility led by ING Capital (NYSE:ING), which swells the facility's size by $35 million up to $415 million. With the two new lenders, the syndicated bank credit facility now includes 12 lenders, matures on November 30, 2016 and contains an accordion feature permitting potential future expansion up to $600 million.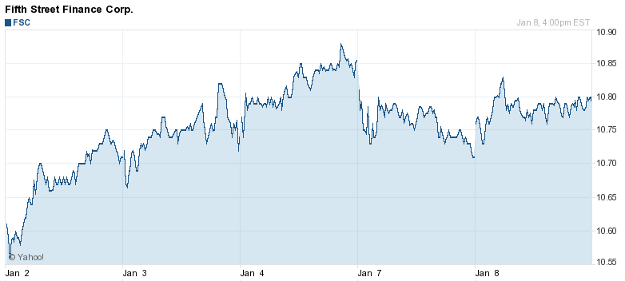 Are these stocks a buy or a sell? Let us help you decide.  Check out our Wall St. Cheat Sheet Stock Picker Newsletter now>>
Ellington Financial (NYSE:EFC): Closing price $23.57
On Tuesday, Ellington said that its estimated book value per common share as of December 31st, stood at $24.84, or $24.37 on a diluted basis. These estimates are subject to change at the completion of the firm's year-end valuation procedures.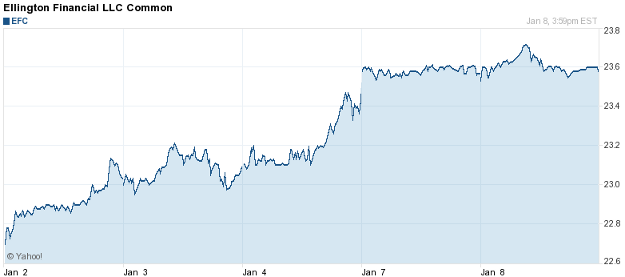 Fifth Third Bancorp (NASDAQ:FITB): Closing price $15.44
Again on Tuesday, the bank's website was shut down by a cyber attack, marking the second time in five days, after it suffered a major 'denial of service cyber attack' last Thursday. Tuesday's event caused the website to shut down for more than an hour around midday. The attacks works when hackers launch a wave of attempts to contact a website; when too many requests come in at once, the site can't handle all of that traffic and it simply shuts down. Fifth Third is the biggest locally based bank in Greater Cincinnati.
Goldman Sachs Group (NYSE:GS): Current price $133.48
Running against the current trend, Goldman will start disclosing the values of its money-market mutual funds daily, as opposed to monthly, say inside sources. Some of these changes could be effective as soon as Wednesday. Expert observers say that Goldman is the first large fund provider to publish daily values, but that its move could induce other firms in the $2.7 trillion industry to follow its lead.
Solar Capital (NASDAQ:SLRC): Current price $24.40
The firm said Tuesday that it has priced a public offering of 6 million shares of its common stock at a public offering price of $24.40 per share for aggregate proceeds of $146.4 million. The closing of the offering should occur on January 11th. In regards to the offering, Solar has granted the underwriters for the offering a 30-day option to as much as an additional 900,000 shares of common stock.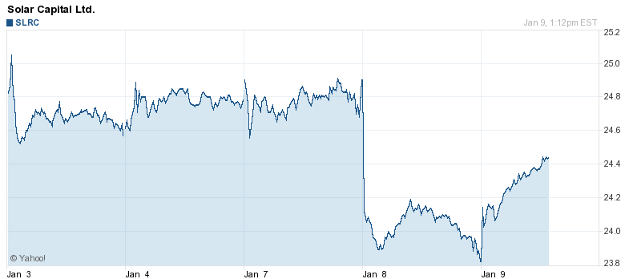 CIGNA Corporation (NYSE:CI): Current price $54.45
CIGNA, the third-biggest domestic health insurer, is set to sell of its death-benefits division and a deal could be in the offing as soon as this year, according to its Chief Executive David Cordani, who continued that his firm has spent the past 18 months restructuring the unit and might unload it this year if "the right market conditions unfold." Cordani's remarks were from an interview at the JPMorgan health-care conference in San Francisco. The division has been closed to new business since 2001.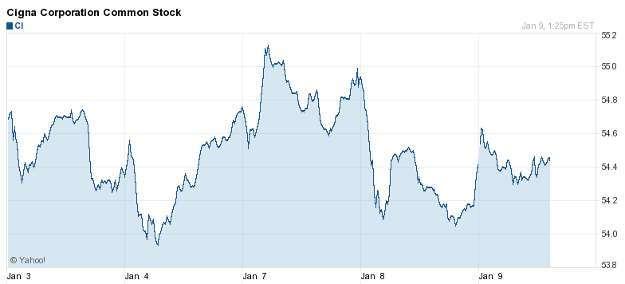 Morgan Stanley (NYSE:MS): Current price $19.51
The Wall Street bank intends to slash some 1,600 positions inside its institutional securities division, which would represent 6 percent of its headcount within the investment banking and trading business, says an inside source.
American International Group (NYSE:AIG): Closing price $35.76
Members of the board of directors of AIG have decided against joining in the Starr International lawsuit which alleges that the United States government took advantage of the firm during its bailout from the financial crisis. The members were presumably quite leery of getting the company involved in a move that is extremely controversial.

Bank of America Corporation (NYSE:BAC): Closing price $11.43
The United States Attorney for the Southern District of New York, Phreet Bharara, is pressing ahead with more lawsuits against Bank of America, for allegedly divesting fraudulent loans to Fannie Mae and other such enterprises, according to his office to the Charlotte Business Journal. In October, Bharara charged the firm with fraud, bringing a $1 billion federal lawsuit, claiming in court documents that BofA had sold government agencies billions of dollars in mortgages which were advertised as satisfying government standards. However, the actual suit contends that the loans were missing the proper documentation and underwriting.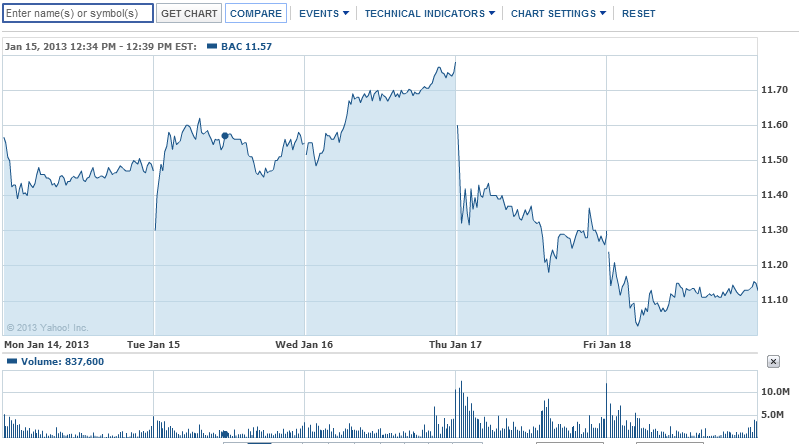 Are these stocks a buy or sell? Let us help you decide. Check out our Wall St. Cheat Sheet Stock Picker Newsletter now >>
JPMorgan Chase & Co. (NYSE:JPM): Closing price $45.47
On Wednesday, JPMorgan Asset Management announced that as of January 14th, the JPMorgan Prime Money Market Fund, JPMorgan Liquid Assets Money Market Fund, and the JPMorgan Current Yield Money Market Fund will calculate their Market-Based NAVs per share to four decimals at the funds' close of each trading day, and post it the following business day on its website. This additional disclosure should supply investors with greater transparency as to the Market-Based NAV's fluctuation, but will not alter the funds' existing goal of maintaining $1-stable NAV.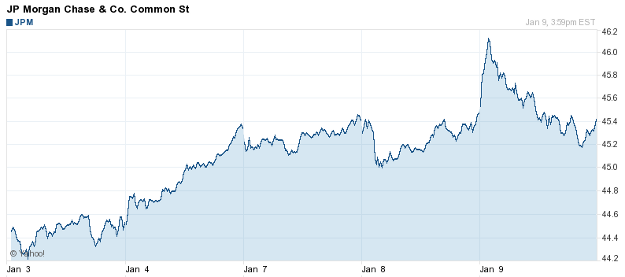 Prudential Financial (NYSE:PRU): Closing price $56.31
On Wednesday Deutsche Bank began coverage on shares of Prudential Financial with a Buy, and a price target of $67. The company's operating earnings forecast estimates for its fiscal years 2012 through 2014 are $6.15, $7.85 and $9.05, respectively, which imply an above-group-average growth.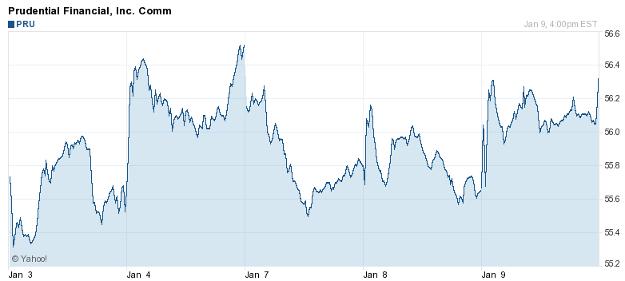 ?JPMorgan Chase & Co. (NYSE:JPM) Closing price $46.15
JPMorgan, the biggest domestic bank, will compensate borrowers with $2 billion in mortgage relief and direct cash payments, to resolve home-loan abuse allegations by regulators. More specifically, the firm will make a cash payment amounting to $753 million and reserve $1.2 billion towards foreclosure prevention efforts as part of an $8.5 billion accord with 10 banks and their regulators that was announced on Monday, according to a Thursday regulatory filing.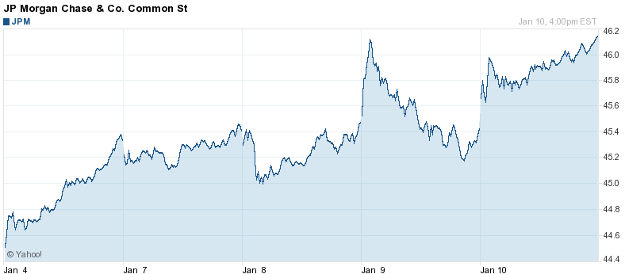 American International Group (NYSE:AIG): Closing price $35.80
Even though AIG refused to go along with a lawsuit brought by Hank Greenberg and his firm, Starr International, against the United States government, Greenberg's attorney said on CNBC Thursday that his client does not intend to sue the insurer AIG. Not only will the company not join the suit, it will not allow Greenberg to pursue claims on its behalf. The former AIG executive Greenberg claims that the government bailout of the company included unfair terms, but the lawsuit has quickly become toxic in terms of public opinion.
Are these stocks a buy or sell? Let us help you decide. Check out our Wall St. Cheat Sheet Stock Picker Newsletter now >>
Bank of America Corporation (NYSE:BAC): Closing price $11.78
The bank will divest 24 of its branches in South Bend and Elkhart and in southwestern Michigan to Indiana's Old National Bank. The branches hold $779 million in deposits; no purchase price were divulged.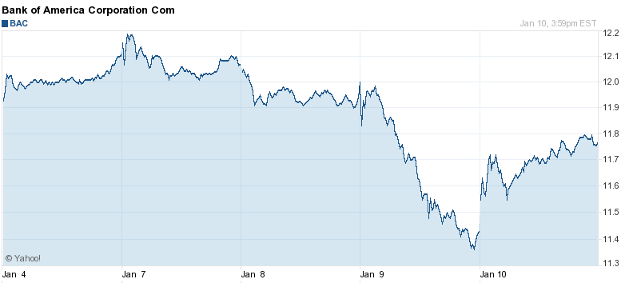 Deutsche Bank (NYSE:DB): Closing price $49.51
Internal bank documents indicate that the company made a minimum of €500 million, or $654 million in profit in 2008 out of  trades pegged to the interest rates under investigation by regulators on a global basis, the Libor. An inquiry by regulators has been looking into claims that over a dozen banks, including Deutsche Bank, rigged Libor along with other rates supporting trillions of dollars in loans and other financial contracts.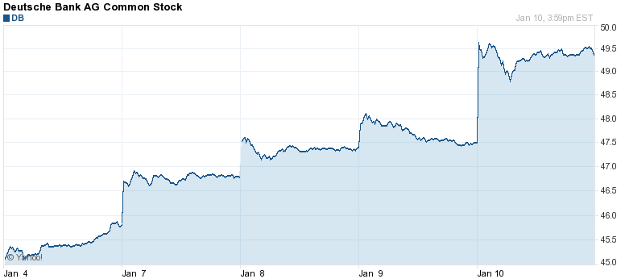 HSBC Holdings (NYSE:HBC): Current price $54.74
HSBC is increasingly worried that its planned divestiture of a $9.4 billion interest in Ping An Insurance Co. might collapse, but nevertheless says that it has no material info to report about the negotiations. In a statement released Wednesday, the bank said that, "HSBC confirms that it is not aware of any information which must be announced to avoid a false market" in its own shares, addressing regulators in Hong Kong and confirming that the announcement of the proposed sale "remains accurate."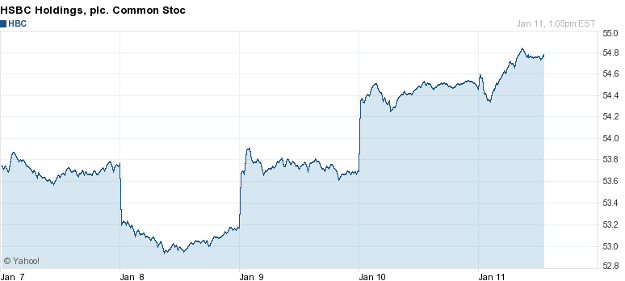 Morgan Stanley (NYSE:MS): Current price $20.24
Jonathan Popper, managing director of Morgan Stanley, has been recruited by the state-owned investment firm Temasek Holdings of Singapore, according to two knowledgeable sources. While at his now former firm, Popper managed mergers and acquisitions in Southeast Asia for the bank. Also at Morgan Stanley, Popper was involved in advising the Thai billionaire Charoen Sirivadhanabhakdi on his $7.3 billion bid for Singapore's Fraser & Neave.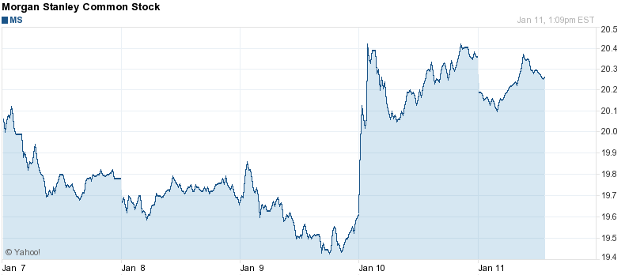 Bank of America Corporation (NYSE:BAC): Current price $11.57
BofA and Citigroup (NYSE:C) are but two lenders who have ridded themselves of assets, slashed their workforce, and reinforced their balance sheets subsequent to their repaying the taxpayer bailouts of 2008, but a few worries persist that troubles for the big banks could resurface. However, Warren Buffett has said that the lenders have rebuilt capital to the point at which they no longer pose a threat to the economy. In a phone interview, he remarked that, "The banks will not get this country in trouble, I guarantee it. The capital ratios are huge, the excesses on the asset side have been largely cleared out."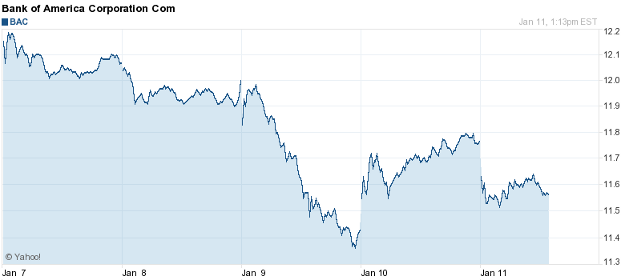 The Royal Bank Scotland Group (NYSE:RBS): Current price $11.60
Regulators in the United Kingdom are presently in discussions with Royal Bank of Scotland in regards to whether two executives should step down subsequent to the Libor scandal, according to the Wall Street Journal. Knowledgeable sources say that the Financial Services Authority is pressuring the bank to hold one or more persons accountable.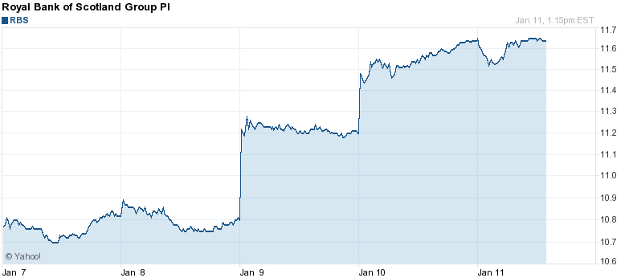 JPMorgan Chase & Co. (NYSE:JPM): Closing price $46.14
JPMorgan's policing of money flows is set to be its next regulatory headache, as United States officials are now expected to order the firm to correct lapses in how it controls suspect movements, according to two inside sources. The bank is caught in a current crackdown by the government in order to force banks to tighten their anti money-laundering systems. However, the action against would likely take the form of a cease-and-desist order, which are used to force to improved compliance policies, and the company  will probably not have to pay a monetary penalty, say the sources. The officials involved are the Federal Reserve and the Office of the Comptroller of the Currency.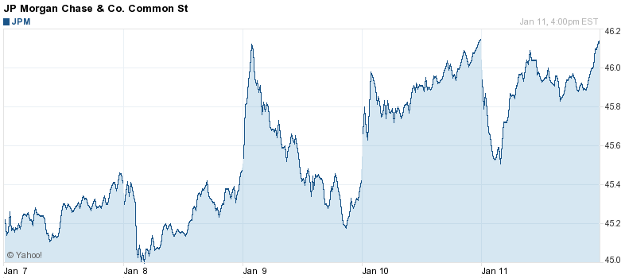 Banco Santander (NYSE:SAN): Closing price $8.58
Chairman Emilio Botin has said in the United Kingdom financial magazine The Banker, that Santander anticipates that its profits will rebound  in 2013, following its non-performing loans ratio peaks in the first half of the year. Botin commented that "In 2012, our profits will be down because we have made large extraordinary provisions for Spanish real estate loans. Santander will finish the extraordinary provisioning in 2012, ahead of most other banks, and we expect our Spanish non-performing loans to peak at about 7 percent in the first half of 2013. Profits will then start to rebound."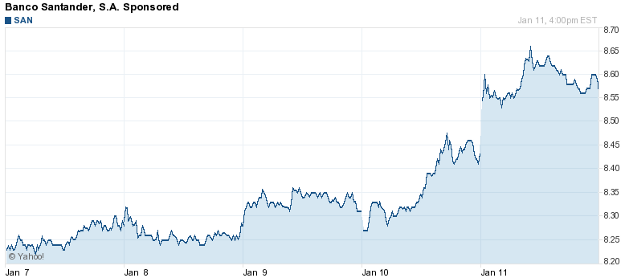 Are these stocks a buy or sell? Let us help you decide. Check out our Wall St. Cheat Sheet Stock Picker Newsletter now >>
Wells Fargo & Co. (NYSE:WFC): Closing price $35.10
On Friday, Wells Fargo posted $5.1 billion in profit for the fourth quarter, marking a 24 percent jump, fueled by the bank's lucrative mortgage business. Exploiting low-interest rates that have caused a spate of refinancing activity, the firm again notched record profits. During the past 12 consecutive quarters, profits at the bank have increased.

Nationstar Mortgage Holdings (NYSE:NSM): Closing price $37.78
On Friday, Nationstar Mortgage shares were upgraded at Sterne Agee from Neutral to Buy with a price target of $47. The stocks closed at $38.83 Thursday, with a 52 week range of between $13.00 and $40.61.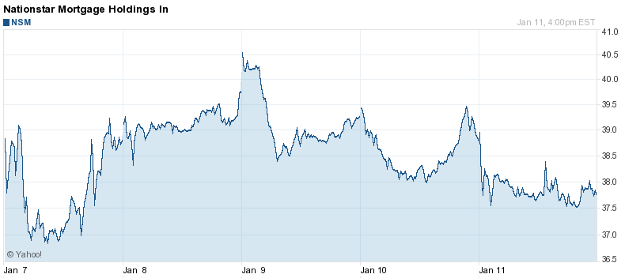 Investing Insights: Is American Express Heading In the Right Direction?