Citigroup's Soft Quarter, Molycorp Tanks on New Offering, and 3 More Hot Stocks
Citigroup Inc. (NYSE:C): Citi has reported EPS of $1.02, missing estimates by $0.01, while revenue of $18.2 billion also fell shy by $0.82 billion. As expected, revenues were dented by slowing trends in the mortgage and trading operations as global consumer banking revenues fell 7 percent over last year to $9.2 billion. A 12 percent decline in North America alone led the plunge. Securities and banking revenues fell 2 percent to $4.7 billion and suffered, as indicated by the company a month or so ago, by a substantial 26 percent crater in fixed income revenue.
Molycorp, Inc. (NYSE:MCP): Molycorp shares are selling off to the tune of 17 percent after the company revealed that it was expecting to bring in far less revenue and cash flow than it had anticipated. Molycorp is planning to raise needed financing to support adequate funding for capital needs, debt service, and other working capital needs. It plans to offer up to $200 million of its common stock, or up to $230 million if the underwriters exercise their option to purchase additional shares, which Seeking Alpha notes is a major dilution for a company with a $1.3 billion market cap.
Domino's Pizza (NYSE:DPZ): Domino's stock is trading down in the wake of a quarterly report that saw EPS of $0.51 miss by $0.01, though revenue of $404 million beat by $1.3 million. Domestic same store sales rose 5.4 percent during the third quarter while global stores sales were in tow with a 5 percent gain. However, Domino's bottom line fell below analyst expectations, although improved traffic trends and better franchise fees helped offset higher administrative expenses and the impact of foreign exchanges.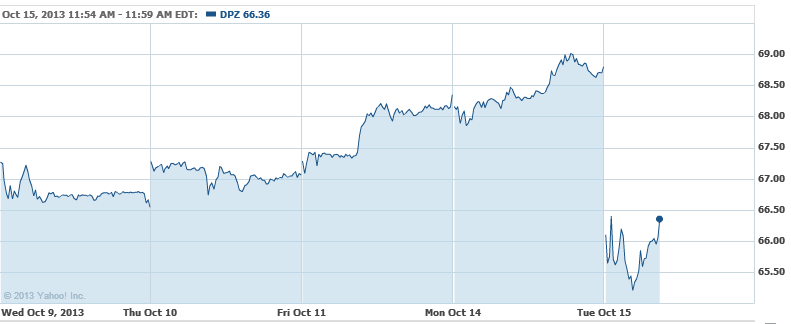 Exxon Mobil Corp. (NYSE:XOM): Exxon has announced that it has shut down an oil pipeline system at the Port of Long Beach, California on Monday after discovering a crude leak in the area. ExxonMobil spokesman Aaron Stryck said that the oil had been contained and the line was put offline "in an abundance of caution" after an oil leak was found in the general area surrounding the system.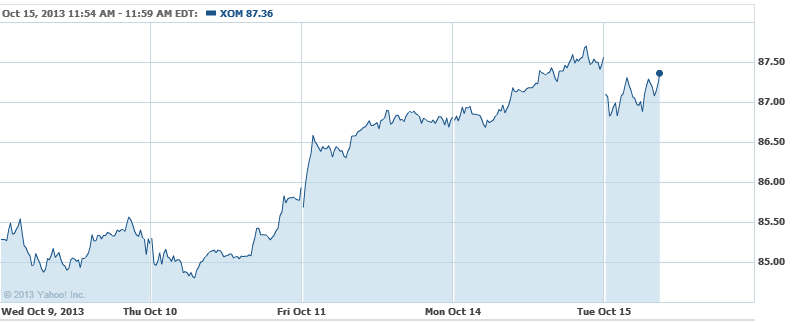 Coca-Cola Company (NYSE:KO): Coca-Cola has reported global volume growth of 2 percent for the third quarter, while increased volatility remains prevalent in key markets. Earnings fell just shy with EPS of $0.53 missing by $0.01. Revenues saw the same fate with $12.03 billion missing by $0.04 billion. Eurasia & Africa grew 4 percent, Europe slide 1 percent, North America grew 2 percent, and the Pacific led the charge with a 5 percent gain.

Don't Miss: Citigroup Earnings Eroded by Economic Headwinds.