Clearwire Board Likes New DISH Offer and 2 More Heavily Traded Stocks to Follow
Clearwire Corporation (NASDAQ:CLWR): Current price $4.47
Clearwire says that its board of director's has unanimously recommended that stockholders accept DISH Network's most recent tender offer of $4.40 a share for all outstanding Clearwire shares. Previously, the same board also unanimously suggested that stockholders vote oppose a $3.40-per-share offer from Sprint Nextel Corporation. A special stockholders' meeting to vote on Sprint's proposal set for Thursday has been rescheduled for Monday, June 24. The DISH bid is contingent upon various conditions, including the tender of over 25 percent of Clearwire's voting stock. The DISH offer is valid until midnight, July 2. Meanwhile, Sprint said late on Wednesday that it will examine Clearwire's statement and any subsequent filings with regulators prior to deciding its next steps.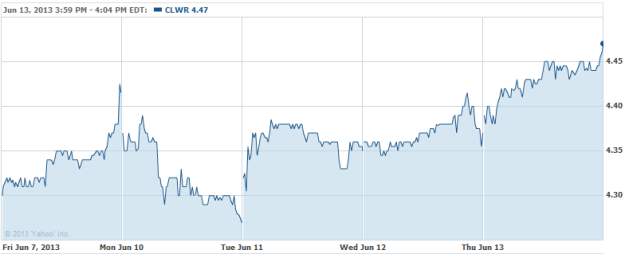 Microsoft Corporation (NASDAQ:MSFT): Current price $34.72
Microsoft announces that it would launch 500 special stores within existing Best Buy Co. (NYSE:BBY) stores in the United States, selling exclusively Windows-based tablets and computers, along with other Microsoft products, as part of an effort to revitalize sales of its flagship operating system. The software firm already has a chain of about 70 of its own Microsoft Stores and kiosks inside of shopping malls, and said Thursday that the initiative would lead to over 1,200 Best Buy Microsoft-trained sales associates to assist customers. Since the October debut of Microsoft's new Windows 8 operating system, in excess of 100 million copies have been sold, but sales of new tablets and PCs running the software, and its own Surface tablet, have been a bit disappointing; an updated version named Windows 8.1 will appear later in 2013.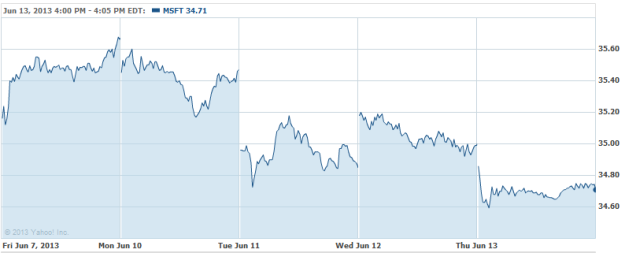 Pfizer (NYSE:PFE): Current price $29.08
Geno Germano, who leads Pfizer's specialty drugs and oncology businesses, says that the much-touted two new drugs are selling below company anticipation,  although the company still thinks that the pills will become stars. The blood thinner Eliquis, and Xeljanz, which is a rheumatoid arthritis medicine, were okayed late in 2012 and projected to be the basis of new sales growth at Pfizer. However, the pills are rivals against well-entrenched products, and the firm has not been able to pick up as much of the market in the first months of sales as were hoped. Germano said of Xeljanz that "the trajectory isn't what we would have liked it to have been." With Eliquis, he explained that two rival pills have made early sales harder, commenting "I think some of the low-hanging fruit has been taken by the entries that came before Eliquis."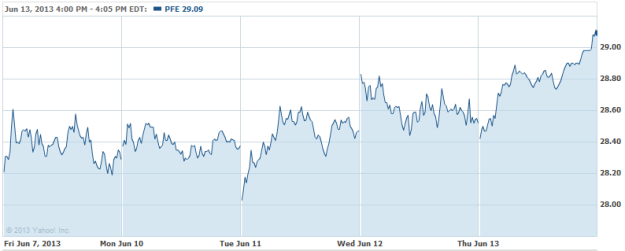 Don't Miss: Policymakers Start the Clock on Banking Reform.