Clearwire Delays Sprint Vote and 2 More Heavily Traded Stocks to Follow
Clearwire Corporation (NASDAQ:CLWR): Current price $3.40
Only hours after it postponed its vote on Sprint Nextel Corporation's (NYSE:S) offer because the latter had raised the bid, Clearwire has delayed the meeting by one more day. The meeting has been initially set for today, but bowing to pressure from shareholders unhappy with the Sprint offer, it will now be held on Friday, May 31. Earlier Tuesday, Clearwire has announced that it would be held May 30; the rescheduling will give investors an additional 24 hours to mull the Sprint offer, now standing at $3.40 a share, up from $2.97.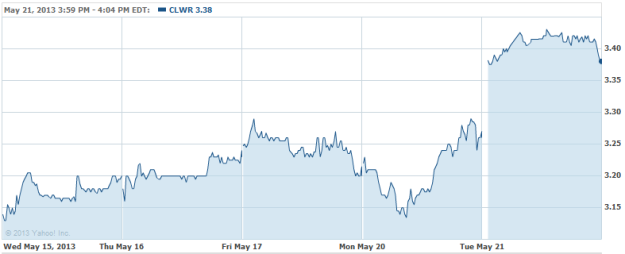 Nuance Communications (NASDAQ:NUAN): Current price $19.27
Analysts at Oppenheimer believe that the activist Carl Icahn, who holds a 10-percent passive interest in Nuance, might demand that it take steps to access more value during its shareholder meeting set for January. The research firm opines that Nuiance will probably take a sum of the parts approach, and Oppenheimer calculates that its shares are worth $31 in that scenario; the firm maintains an Outperform on the stock.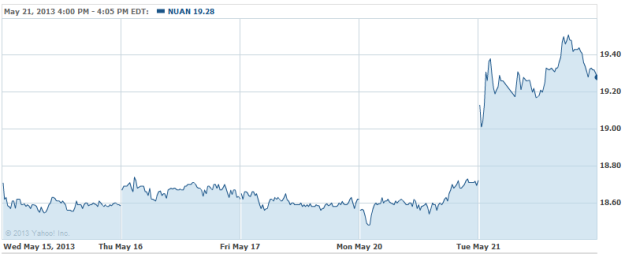 Dell (NASDAQ:DELL): Current price $13.39
Dell will enable MicrosoftWindows Server Hyper-V as a viable hypervisor choice for the OpenStack cloud platform. This move, which marks the first instance of a major tech vendor enabling Windows Server Hyper-V hypervisor on OpenStack for private clouds, will provide customers added flexibility and choice to manage OpenStack workloads within their existing Windows Server environments. Further, Dell will enable key features of the Windows Server 2012 virtualization platform for OpenStack, among which include network virtualization, policy-based isolation, quality of service, and multi-tenancy.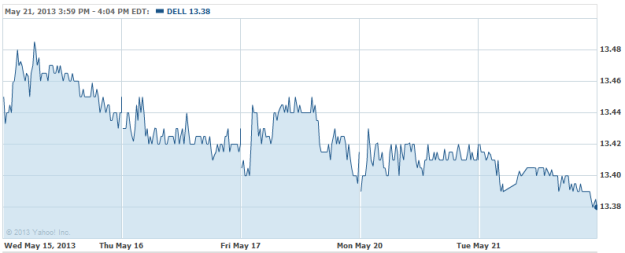 Don't Miss: Was Printing Money Really the Fed's Best Option?