Closed Doors on Gray Thursday: PR Genius or Retail Suicide?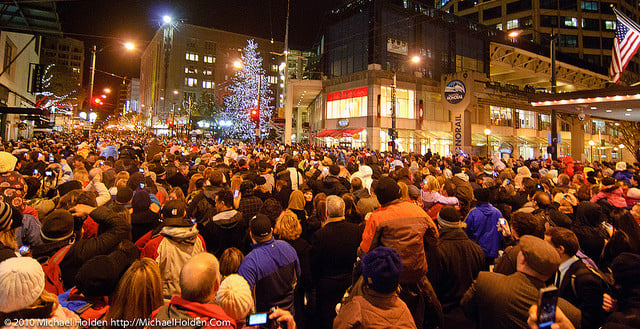 This year, the lines over the official start of the holiday shopping season are more blurred than ever. Americans have long enjoyed the tradition of waking up from their tryptophan-induced comas on Black Friday to score the best deals, but the sales have begun starting earlier and earlier, and now all of a sudden, more consumers are celebrating Gray Thursday rather than Thanksgiving.
Gray Thursday is the moniker coined for the fourth Thursday of November, also known as Thanksgiving, that is slowly becoming the unofficial kickoff to holiday sales. This year, Best Buy (NYSE:BBY), Wal-Mart (NYSE:WMT), Macy's (NYSE:M), Target (NYSE:TGT), JCPenney (NYSE:JCP), Kohl's (NYSE:KSS), and Sears (NASDAQ:SHLD) are all opening their doors on Black Friday Eve, starting as early at 6:00 pm, and K-Mart is even going big at 6:00 am, staying open for 41 hours straight. These new holiday times have drawn criticism from many consumers who charge that the big box retailers are injecting consumerism into a holiday meant for family, but the companies fight back and contend that they are simply catering to customers' requests, granting them more hours to shop.
We won't know until next week whether these ambitious efforts pay off, but the earlier opening times for some retailers seem to pose make-or-break situations because for places like K-Mart and Wal-Mart, reports of national boycotts are already stirring. Thus, Gray Thursday could end up hurting companies rather than helping, but it's evidently a risk these brick-and-mortar retailers are willing to take as they face increasing competition from e-commerce giants like Amazon.com (NASDAQ:AMZN) and suffer flattening demand from deflated consumer sentiment.
On the other hand, there are a handful of retailers that pride themselves on keeping their doors locked on Thanksgiving, and they are now subsequently enjoying the PR benefit they gain by sidestepping the Gray Thursday consumer backlash. Stores that are staying closed are scoring points with shoppers and workers upset about being forced to cut their holiday short in order to secure the best deals, but it is still unclear if they'll suffer losses due to consumers taking advantage of the Thanksgiving deals and not visiting their re-opened stores on Black Friday.
According to ABC News, the retailers rejecting Gray Thursday include Nordstrom (NYSE:JWN), Trader Joe's, Burlington Coat Factory, TJ Maxx (NYSE:TJX), BJ's Wholesale Club, Costco (NASDAQ:COST), Home Depot (NYSE:HD), Dillards, and Marshall's. Nordstrom recently wrote on its Facebook (NASDAQ:FB) page, "We won't be decking our halls" until Black Friday because "we like the idea of celebrating one holiday at a time," and appliance store P.C. Richard & Son similarly published ads in some newspapers with the words, "Save Thanksgiving."
Back in November, when a Costco executive was asked by the Huffington Post what influenced the retailer's decision to remain closed on Thanksgiving, Paul Latham explained, "Our employees work especially hard during the holiday season, and we simply believe that they deserve the opportunity to spend Thanksgiving with their families. Nothing more complicated than that."
Following the comments, the retailers have enjoyed praise for their commitment to the holiday, but Roger Beahm, a marketing professor at Wake Forest University, still explains to The Post that with the shorter holiday shopping season on account of a late Thanksgiving, staying closed on Turkey Day could prove more risky than fielding criticism for opening early. According to a survey from Deloitte, last year, nearly 25 percent of Americans said they planned to shop on Thanksgiving, and the figure has increased significantly for this year.
Holiday shopping can account for as much as 40 percent of some retailers' sales, and with the National Retail Federation already predicting that retail sales in November and December will only rise 2.4 percent compared to last year's 3 percent increase and 2011′s 4 percent jump, companies are now faced with a tough decision: open early and face consumer backlash, or stay closed and risk lost ground to competitors?
Don't Miss: Best Deals at 5 Retailers Going Big on Black Friday Eve.