CNBC Anchor's Tragic Death Shakes Morning Markets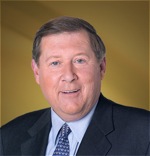 Journalist Mark Haines, 65, died unexpectedly last night at his home. No statement regarding the cause of death has been released.  The announcement of Haines' passing came this morning at 9:53 AM during the broadcast of, "Squak Box" his daily show on CNBC (NYSE:GE) (NASDAQ:CMCSA), and was delivered by friend and co-anchor Carl Quintanilla.
Haines, "The Chris Berman of CNBC" was a veteran of the news industry and a staple of CNBC's financial news broadcasts, having worked 22 years for the network prior to his tragic death last night. He was a founding anchor of the shows "Squak Box," and "Squak on the Street" which he became involved with after joining the network in 1989. Friends and colleagues hope to remember him as a generous and trustworthy associate, as Mark was often distinguished by good-naturedness towards colleagues on air, saying "Hey, when they look good, I look good, too."
CNBC President Mark Hoffman said of Haines, "[he] was a building block" of the network's financial programming, "With his searing wit, profound insight and piercing interview style, he was a constant and trusted presence in business news for more than 20 years…Mark loved CNBC and we loved him back. He will be deeply missed."
In addition to his credentials as a financial newsman, Mark Haines held a law degree from the University of Pennsylvania and was a member of the New Jersey State Bar.
This morning traders on the floor of the New York Stock Exchange (NYSE:NYX) paused for a moment of silence after news of the death was announced.