Coach Earnings: 50% Increase in the Dividend
S&P 500 (NYSE:SPY) component Coach, Inc. (NYSE:COH) reported net income above Wall Street's expectations for the third quarter. Coach, Inc. is an American marketer of fine accessories and gifts, including handbags, footwear, sunwear, travel bags, business cases, jewelry, clothing, fragrance and watches.
Don't Miss: Wall St. Cheat Sheet's newest Feature Trades of the Month!
Coach Earnings Cheat Sheet for the Third Quarter
Results: Net income for Coach, Inc. rose to $186 million ($2.24/share) vs. $157.6 million (50 cents/share) in the same quarter a year earlier. A rise of 18% from the year earlier quarter.
Revenue: Rose 14.5% to $950.7 million YoY.
Actual vs. Wall St. Expectations: COH beat the mean analyst estimate of 60 cents/share. Estimates ranged from 56 cents per share to 63 cents per share.
Quoting Management: Lew Frankfort, Chairman and Chief Executive Officer of Coach, Inc., said, "We're extremely pleased with the strong sales and earnings gains we achieved, marking a continuation of the robust trends we have experienced for well over a year now. Our performance – led by another quarter of excellent North American comparable store sales – demonstrated the brand's vibrancy across channels and geographies. Further, the announcement today of a 50% increase in our dividend reflects our financial strength and our confidence in Coach's business outlook."
"Naturally, we are deeply saddened by the recent tragedy in Japan (NYSE:EWJ) but were relieved to learn within days of the earthquake and tsunami that all of our Coach colleagues were safe. As one would expect, the immediate impact to our Japanese business was significant, with improvement more recently. We're hopeful that business conditions will continue to steadily improve over the next few months."
Key Stats:
The company has enjoyed double-digit year-over-year revenue growth for the past five quarters. Over that span, the company has averaged growth of 17.5%, with the biggest boost coming in the fourth quarter of the last fiscal year when revenue rose 22.2% from the year earlier quarter.
The company has now seen net income rise in three-straight quarters. In the second quarter, net income rose 25.9% and in the first quarter, the figure rose 34.1%.
Competitors to Watch: Frederick's of Hollywood Group Inc. (AMEX:FOH), Vera Bradley, Inc. (NASDAQ:VRA), Tiffany & Co. (NYSE:TIF), Fossil, Inc. (NASDAQ:FOSL), Piquadro S.p.A. (NYSE:PQ), Liz Claiborne, Inc. (NYSE:LIZ), Guess?, Inc. (NYSE:GES), Polo Ralph Lauren Corp. (NYSE:RL), Wet Seal (NASDAQ:WTSLA), and Limited Brands (NYSE:LTD).
Today's Performance: Shares of COH are trading at $56.67 as of April 26, 2011 at 9:51 AM ET, down 0.7% from the previous close of $57.08.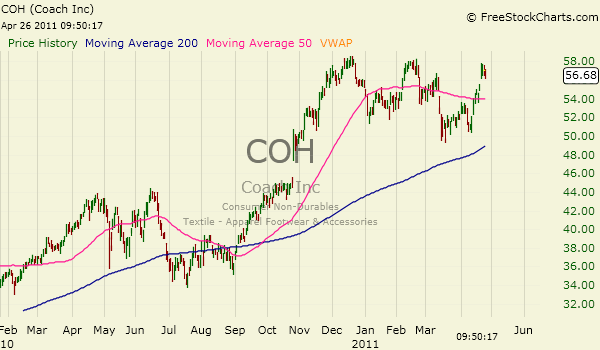 Don't Miss Wall St. Cheat Sheet's newest Feature Trades of the Month!