Coca-Cola Disappoints, Johnson & Johnson Beats Expectations: Market Recap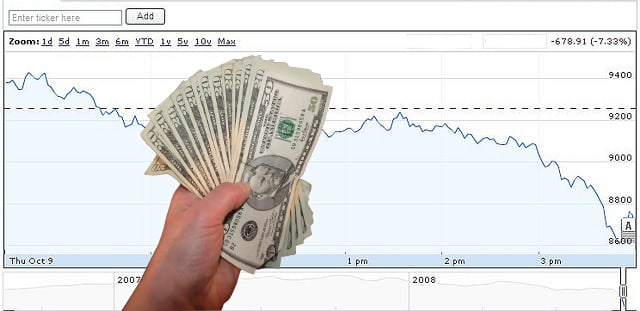 U.S. stocks fell Tuesday upon disappointing earnings from Coca-Cola Co. (NYSE:KO), breaking the S&P 500′s eight-day winning streak. Investors are being cautious, as Federal Reserve Chairman Ben Bernanke will give his testimony on the state of stimulus to Congress tomorrow. Comments from Bernanke helped spur the rise in stocks last week after he said he believed stimulus needed to continue.

Gold: +0.62% to $1,291.40 an ounce; Oil: -0.55% to $105.73 per barrel; U.S. 10-Year: -0.94 to 2.532%
Industrial Production Gives Economy a Welcome Sign: The economy – which appears to have slowed sharply in the second quarter — received a welcome sign Tuesday morning: Industrial production rose slightly more than expected in June. The Federal Reserve reported that output at factories, mines, and utilities rose 0.3 percent last month, the largest increase since February and a significant jump from the relatively flat reading recorded in May… (Read more.)
Will Economists Find These Retail Numbers Disconcerting?: Throughout June, Americans spent less at department stores and restaurants, bought fewer computers and electronics, and sales at home improvement stores — such as Home Depot (NYSE:HD) — dropped 2.2 percent… (Read more.)
Gasoline Drives Consumer Prices Higher: Is Inflation Heating Up?: Inflation has become a trouble spot for the U.S. Federal Reserve. As measured by the personal consumption expenditures index — the Fed's preferred gauge — consumer price inflation has run at just over 1 percent during the past 12-month period, down substantially from about 2.25 percent in the preceding 12-month period, and missing the Fed's target rate of 2 percent… (Read more.)
Here's your cheat sheet to today's top stocks stories: 
Coca-Cola Co. (NYSE:KO) traded down about 2 percent on Tuesday morning, following an underwhelming second quarter earnings report. The beverage company reported that revenue decreased 2.6 percent on the year to $12.75 billion, missing the average forecast of $12.96 billion… (Read more.)
Johnson & Johnson (NYSE:JNJ) delivered second-quarter earnings results that beat analyst expectations. The company reported adjusted earnings per share of $1.48, beating the mean analyst expectation of $1.39. The company's revenue rose 8.51 percent to $17.88 billion from the second quarter last year. This is a good sign for investors expecting high growth from the company… (Read more.)
Microsoft (NASDAQ:MSFT) better keep on its toes – Google (NASDAQ:GOOG) Chromebooks are becoming the fastest-growing portion of the personal computer industry based on price. Initially dismissed as bare-bones laptops with a lack of built-in software when introduced to the market in 2011, Chromebooks are now gaining share while the rest of the PC industry treads water… (Read more.)
General Motors (NYSE:GM) has not only managed to turn its momentum around after an embarrassing government bailout, it has also resurrected impressive sales success and even managed to rejoin the Standard & Poor 500 Index earlier in May. Now, GM's first-half global sales figures illuminate why the car manufacturer has also been tied up overseas: It has been busy selling more than 1.92 million cars and light trucks… (Read more.)
Tesla Motors's (NASDAQ:TSLA) flagship Model S sedan is a better performer than the company let on. It turns out that Tesla seems to have low-balled the performance of its first car, the Roadster, as well… (Read more.)
Goldman Sachs (NYSE:GS) climbed as much as 1 percent in early trading Tuesday after reporting second-quarter financial results that came in ahead of analyst expectations. The bank reported that total net revenues increased 30 percent on the year to $8.6 billion, compared to an average forecast of $8 billion… (Read more.)
Ford Motor Co. (NYSE:F) is undergoing a summer management shuffle, headed off by the retirement of the company's purchasing chief, Tony Brown, who has worked with the automaker for 36 years. According to Automotive News, Brown has been responsible for Ford's global purchasing since July 1999, and has overseen annual global spending of more than $90 billion… (Read more.)
Follow Jacqueline on Twitter @Jacqui_WSCS
Don't Miss: Cold Snap a Fizzer for Coke, Pepsi, and Dr Pepper Sales.