Coca-Cola Picks Up Market Share and 4 Stocks At 52-Week Highs
Coca-Cola Company (NYSE:KO): Closing price $40.69
Beverage Digest reported that aggregate domestic sales of carbonated soft drinks slid by 1.2 percent by volume in 2012 to 9.17 billion cases, versus a decline of 1 percent year-over-year. The report also noted that if rapidly-growing energy drinks were excluded, 2012 soda volume would have dropped by 1.7 percent, said Reuters. The industry newsletter calculated that Coca-Cola and Dr Pepper Snapple Group (NYSE:DPS) each gained 0.1 percent of market share, while PepsiCo (NYSE:PEP) lost 0.4 percent in share. Shares closed up 1.42 percent on Tuesday at $40.69, and have been traded in a 52-week range of $35.58 to $40.665.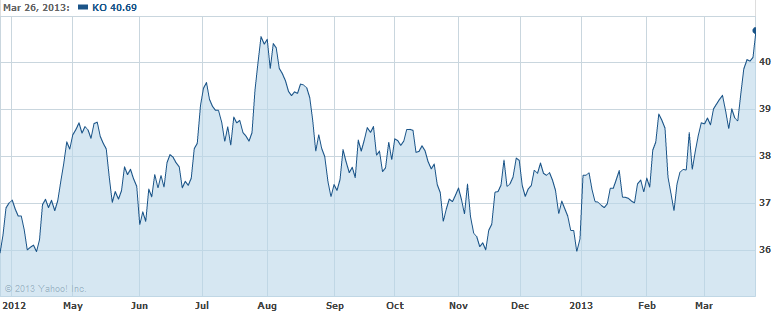 Lions Gate Entertainment (NYSE:LGF): Closing price $23.81
CBS Corporation (NYSE: CBS) and Lionsgate have formed a 50/50 partnership for the highly distributed entertainment cable network TVGN and the website TVGuide.com. The basic cable network, available in over 80 million homes, and will continue to be entertainment-centered, with a specific rebranding and programming strategy to be announced later. The new ownership structure will be comprised of the firm with the number-one broadcast network and many of the top first-run syndication series Entertainment Tonight, OMG! Insider, and the studio that distributes the blockbuster Hunger Games and Twilight franchises and produces award-winning dramas like Mad Men. Under the terms of the deal, CBS will buy a 50 percent interest in TVGN and TVGuide.com., and plans to purchase the ownership interest currently held by One Equity Partners, which is the world private equity investment arm of JPMorgan Chase. The deal closed on signing Tuesday. Shares closed up 2.67 percent on the day at $23.81, having been traded in a 52-week range of $11.26 to $23.45.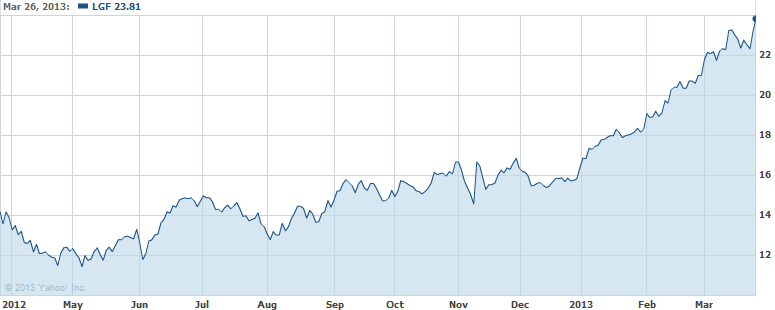 Eli Lilly And Company (NYSE:LLY): Closing price $56.29
Boehringer Ingelheim and Eli Lilly report that a New Drug Application for the investigational sodium glucose co-transporter-2 inhibitor empagliflozin was recently submitted to the FDA for the treatment of type 2 diabetes mellitus in adults. Empagliflozin is a mttributember of the SGLT2 inhibitor class of drugs being studied for the reduction of blood glucose levels in adults with T2D. The emerging SGLT2 inhibitor class removes excess glucose through the urine by blocking glucose re-absorption in the kidney. Shares closed up 1.2 percent on Tuesday at $56.29, and have been traded in a 52-week range of $39.16 to $55.79.
Landec Corp. (NASDAQ:LNDC): Closing price $13.34
Landec estimates its fourth quarter net income between $4.0 million and $4.5 million. A company statement said that "these projections reflect the seasonal transition in produce sourcing for non-green bean produce from the Imperial Valley of California to the Central Coast of California and for green bean sourcing from Southern Florida to points north, as well as the impact from freezes in Florida in March which has significantly reduced the supply of green beans during the month. The financial impact from these freezes during the quarter could reduce pre-tax income by approximately $2 million which is reflected in our fourth quarter guidance." Shares closed up 1.83 percent on the day at $13.34, having been traded in a 52-week range of $6.13 to $13.25.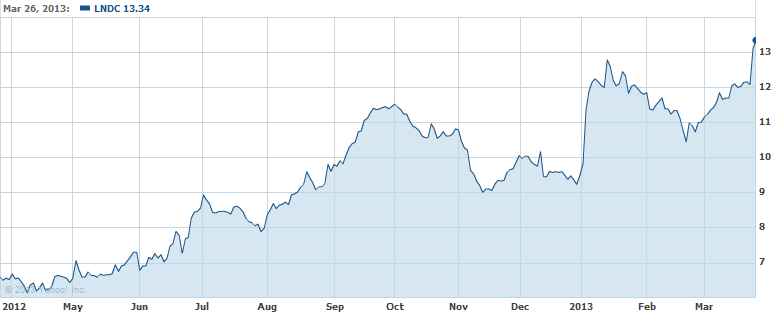 Neogen Corp. (NASDAQ:NEOG): Closing price $49.00
Neogen has posted it earning per share at 27 cents, against consensus of 27 cents. Shares closed up 0.86 percent on Tuesday at $49.00, and have been traded in a 52-week range of $36.24 to $49.50.
Don't Miss: Will Debt Ruin Your Retirement?