Coca-Cola Puts Buffett & Kent On Stage and 2 More Dow Movers to Watch
The Coca-Cola Company (NYSE:KO): Current price $42.31
The company Chairman and Chief Executive Muhtar Kent and Berkshire Hathaway's Chief Executive Warren Buffett were on stage to conduct Coke's on-Stage question-and-answer session at the Annual Meeting of Shareowners in the Cobb Galleria Center at Atlanta. Berkshire Hathaway (NYSE:BRK-B) is the biggest shareowner of Coca-Cola; Buffett told the audience of 850: "We've never sold a share and I wouldn't think of selling a share [of Coca-Cola stock]."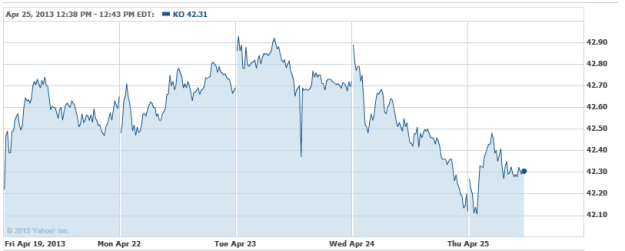 JPMorgan Chase & Co. (NYSE:JPM): Current price $49.48
Two United States Senators have introduced "too-big-to-fail" legislation, which they say is needed to curb activities of the largest United States banks, as the Dodd-Frank Act has failed to guard taxpayers against future bailouts, according to Sens. Sherrod Brown (D-OH) and David Vitter (R-LA). The four Big banks, JPMorgan Chase, Bank of America Corporation (NYSE:BAC), Citigroup (NYSE:C) and Wells Fargo & Co (NYSE:WFC), "…are nearly $2 trillion larger than they were" before getting U.S. aid to help them weather the 2008 credit crisis, according to Brown, who also observed that "if big banks want to continue risky practices, they should do so with their own assets. Our bill will ensure a level playing field for all financial institutions by ending the subsidy for Wall Street megabanks and requiring banks to have adequate capital." The plan is opposed by key lawmakers, as the Senators are proposing a 15-percent capital requirement for so-called megabanks, as a method to lower risk and remove the perception that they would get bailouts in a crisis.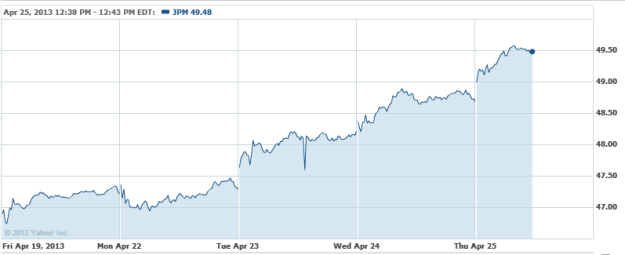 United Technologies Corporation (NYSE:UTX): Current price $92.79
United Technologies' Pratt & Whitney Rocketdyne has concluded the last in a series of hot-fire tests on a J-2X engine with a stub-nozzle extension at simulated altitude conditions. This latest phase in the development of  the next rocket engine allows full-motion testing of the J-2X engine, which is created to take humans to Mars. The J-2X has been selected by NASA as the upper-stage propulsion for the evolved 143-ton (130-metric-ton) Space Launch System, which is an advanced heavy-lift launch vehicle.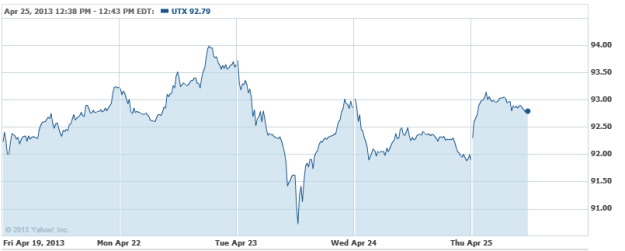 Investing Insights: What Do These Factors Say About DuPont?