Coca-Cola's Earnings Lack Pop and 2 Other Hot Stocks
Coca-Cola (NYSE:KO): Coca-Cola has released its first-quarter results, and although revenue missed estimates by a narrow $0.01 billion, the company's comparable earnings per share of $0.46 beat estimates by $0.01. Overall volume growth was positive, with stronger growth reported in emerging markets that helped to offset more sluggish growth in other regions. Globally, volume growth was up a solid 4 percent.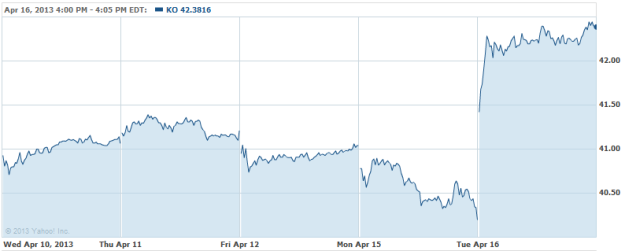 Facebook (NASDAQ:FB): The world's largest social media powerhouse is reportedly in talks with fellow computer giants Apple (NASDAQ:AAPL) and Microsoft (NASDAQ:MSFT) about the possibility of bringing Facebook Home to the Windows and iOS mobile platforms, Bloomberg said. "We've shown them what we've built and we're just in an ongoing conversation," Facebook's director of product Adam Mosseri said, referring to discussions with Apple and Microsoft. Unlike Google's (NASDAQ:GOOG) Android, which is open-source, Apple and Microsoft are far more wary of letting third parties play with the iOS or Windows user interfaces.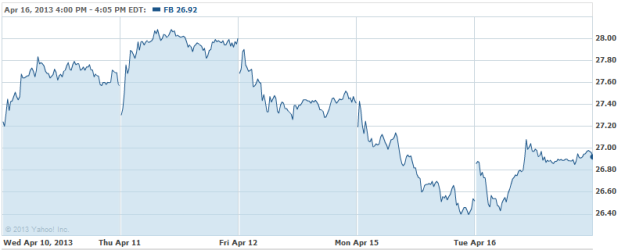 J.C. Penney (NYSE:JCP): J.C. Penney shares are lifting today, after reports surfaced that the company is looking to raise cash by possibly borrowing against its real estate holdings. An anonymous source said that the company could explore spinning off its real estate division into a subsidiary that could issue debt, or alternatively, sell or lease the property back in efforts to free up cash. The company's goal is to raise $1 billion in cash, and has hired the Blackstone Group (NYSE:BX) to assist.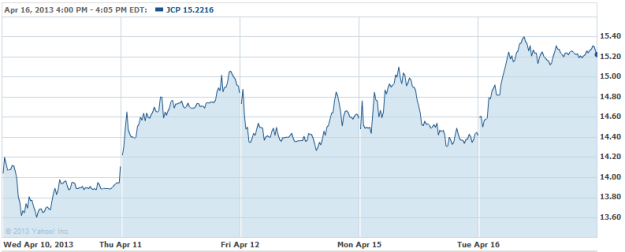 Don't Miss: Should Investors Fall Out of Love With Tiffany?