Coca-Cola's Weaker Quarter, GE Announces New CE Marking, and 3 More Hot Stocks
Coca-Cola Co. (NYSE:KO): Second quarter earnings per share of 63 cents fell in line with expectations, while revenue of $12.75 billion came in $0.22 billion shy of expectations. Europe unit case volume slid 4 percent while the figure for North America is down 1 percent. Overall, volume grew 1 percent as revenue and operating income came down by 3 percent and 2 percent, respectively, affected by currency fluctuations.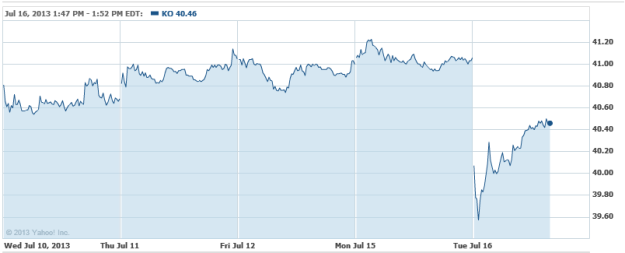 General Electric (NYSE:GE): GE Healthcare announced a European CE marking for SenoClaire, its new breast tomosynthesis solution designed with 3-D imaging technology. By using a low-dose short X-ray sweep around the subject, the nine exposures obtained with a "step-and-shoot" method can eliminate potential motion from the images. Shipments have already started for Europe, the Middle East, Australia, and Latin America.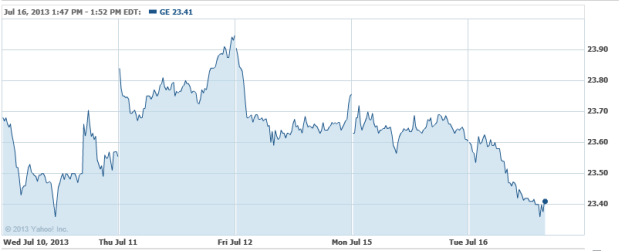 Dell Inc. (NASDAQ:DELL): Dell is considering a postponement of its Thursday shareholder vote on the Michael Dell and Silver Lake leveraged buyout offer in order to seek a higher bid or allow for time to win support for the $24.4-billion deal. The delay could be about a week, an anonymous source told Bloomberg. The special committee of the board is likely to make a decision by Thursday morning if the votes already cast against the buyout are enough to scuttle it, the source said.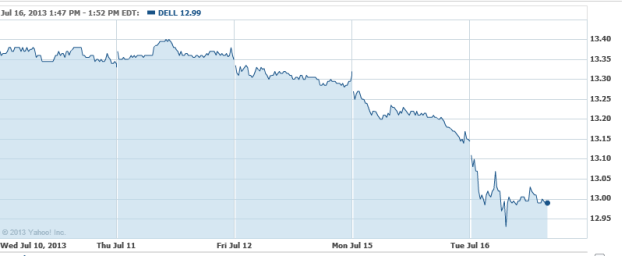 Gogo (NASDAQ:GOGO): Shares of Gogo are down 4 percent on underwriter coverage day, even though the in-flight Wi-Fi services provider has been awarded three bullish ratings and a Neutral one. JPMorgan sees positives for Gogo for giving domestic airlines "the fastest and lowest cost entry to in-flight broadband," and believes that it has only a handful of credible international rivals, with services such as Gogo Vision to increase its value. Morgan Stanley thinks Gogo's growth and barriers to entry are offset by low take rates, something attributed to the limitations of current tech (i.e. low bandwidth and high prices), Seeking Alpha reports.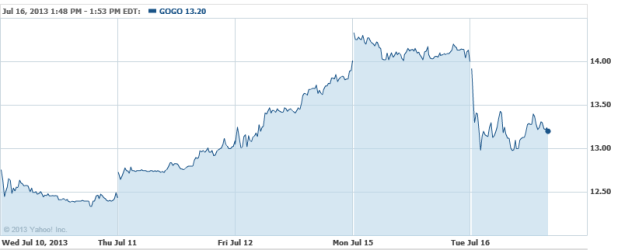 Glu Mobile Inc. (NASDAQ:GLUU): An analysis by Seeking Alpha contributor Kelvin M. indicates that Glu may beat its estimates on August 6, using numbers and the second-quarter performance of Glu's games on App Store charts as a foundation for his assertion. Kelvin M. points out that Glu's most popular title, Frontline Commando: D-Day, has been well-received in App Store charts throughout the second quarter and that Glu's games are being met warmly in China. At the same time, though, he indicates that "there is no real indicator showing that Glu will have an exceptional quarter."

Don't Miss: Cold Snap a Fizzer for Coke, Pepsi, and Dr Pepper Sales.