Coke Gains Soft Drink Share and 3 Dow Movers To Watch on Tuesday
General Electric Company (NYSE:GE): Current price $23.01
GE Capital Retail Bank has extended its multi-year agreement so as to offer the Belk Rewards private label credit card program. Belk, the country's biggest privately-owned retailer, divested the credit card portfolio to GE Capital and debuted the enhanced offering in 2005. GE Capital's Retail Finance unit, which manages the relationship and services the account, is also honoring Belk's 125th anniversary by introducing an updated branded credit card with a 125 years icon to their accountholders and being an exclusive, presenting sponsor for Belk's 125 Days of Service initiative, dedicated to improving conditions at 250 Title 1 schools in low-income communities throughout 16 states.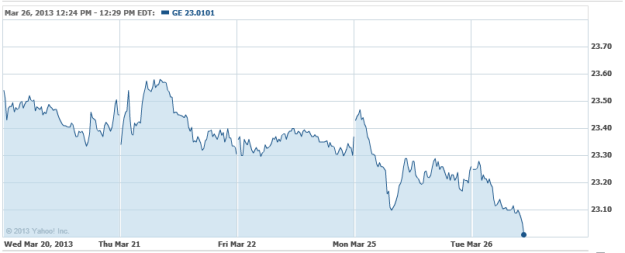 Intel Corporation (NASDAQ:INTC): Current price $21.42
Intel is progressing in its discussions with Time Warner (NYSE:TWX), NBC Universal (NASDAQ:CMCSA), and Viacom (NYSE:VIA) through which to obtain television shows and films for its online pay-TV service, says Bloomberg. According knowledgeable sources, Intel is negotiating financial terms with the firms and the broad terms have already been signed off.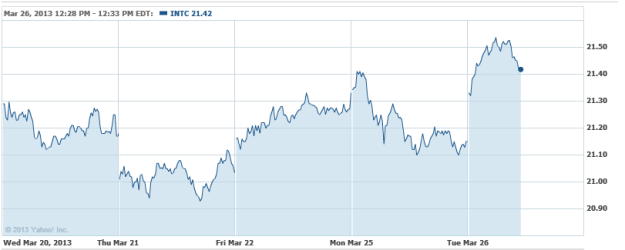 Johnson & Johnson (NYSE:JNJ): Current price $80.24
More than one Supreme Court justice appeared to be skeptical concerning the practice of brand name pharmaceutical firms paying generic companies to keep their less expensive drugs off the market for a longer time, according to The New York Times, which also said that some of the justices seemed to be interested in issuing a narrow ruling that would not form a precedent.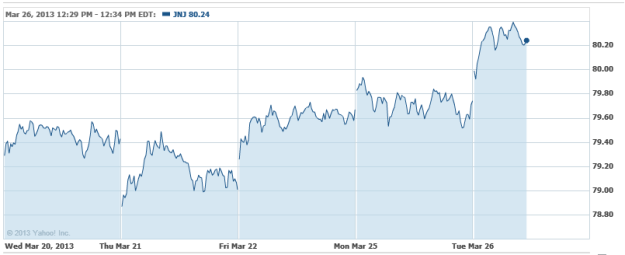 The Coca-Cola Company (NYSE:KO): Current price $40.49
Beverage Digest reported that aggregate domestic sales of carbonated soft drinks slid by 1.2 percent by volume in 2012 to 9.17 billion cases, versus a decline of 1 percent year-over-year. The report also noted that if rapidly-growing energy drinks were excluded, 2012 soda volume would have dropped by 1.7 percent, said Reuters. The industry newsletter calculated that Coca-Cola and Dr Pepper Snapple Group (NYSE:DPS) each gained 0.1 percent of market share, while PepsiCo (NYSE:PEP) lost 0.4 percent in share.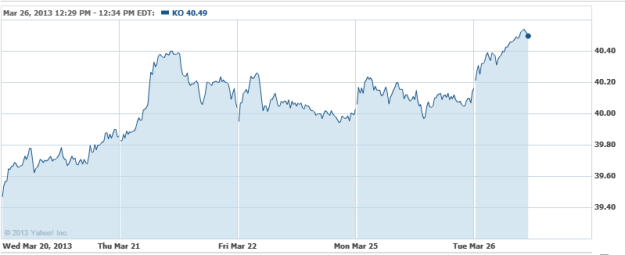 Don't Miss: Did Retail Sales Catch a Case of the Chills?