Coke Invests In Florida Oranges and 2 Other Dow Movers To Watch
The Coca-Cola Company (NYSE:KO): Current price $42.34
Coke is supporting Florida's most extensive citrus planting in 25 years, agreeing to buy roughly $2 billion worth of oranges grown in new groves. Working jointly with Cutrale Citrus Juices and Peace River Citrus Products, the investment by Coca-Cola will permit the growers to plant some 25,000 acres of orange trees. Through this deal, Coca-Cola will procure all of the fruit produced by these trees during the coming 20 years. A 25-year study conducted by the Florida Department of Citrus, calculates that this initiative will contribute over 4,100 direct and indirect jobs to the state's economy.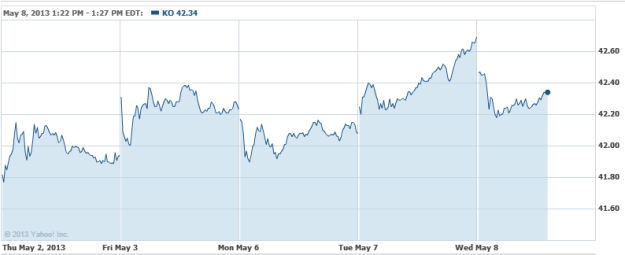 Procter & Gamble Co.  (NYSE:PG): Current price $77.75
The company has debuted The Gift My Mother Gave Me, which is a digital video featuring Maria Shriver honoring her mother, the late Eunice Kennedy Shriver, founder of the Special Olympics in 1968. The video will comprise a moving tribute to Maria's mother,and will also help to raise funds for Special Olympics. For every share of the video from P&G's Thank you, Mom Facebook page during May, P&G will donate $1 to support Special Olympics programs and services, up to $50,000.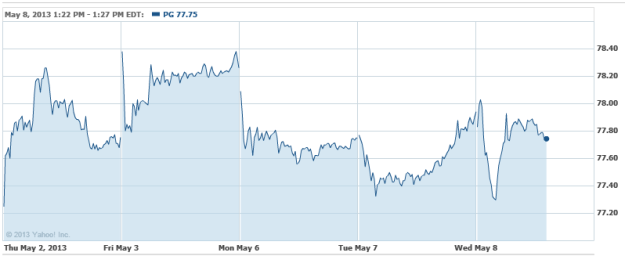 United Technologies Corp. (NYSE:UTX): Current price $94.28
UTX announced that it has initiated cash tender offers for any and all of two series of outstanding notes issued by the Goodrich Corporation, a wholly owned subsidiary, and as much as $500 million of principal amount of the 1.2- percent Senior Notes due 2015 issued by UTC. Through these offers, UTC expects to repay a portion of the long-term debt issued by Goodrich, along with a portion of debt issued by UTC.  UTC does not guarantee the Goodrich notes, and the U.S. Securities and Exchange Commission registration of the Goodrich notes was terminated on July 27, 2012.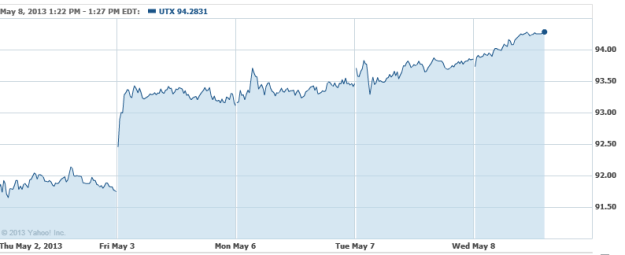 Don't Miss: Gun Control: Will 3D Guns Be Obama's Latest Headache?