Colgate-Palmolive Earnings: Better Than Expected on Emerging Market Growth
S&P 500 (NYSE:SPY) component Colgate-Palmolive Co. (NYSE:CL) reported its results for the first quarter. Colgate Palmolive Company manufactures and markets a number of oral, personal, home care and pet nutrition products for customers around the world.
Don't Miss: Wall St. Cheat Sheet's newest Feature Trades of the Month!
Colgate-Palmolive Earnings Cheat Sheet for the First Quarter
Results: Net income for the personal products company rose to $576 million ($1.16/share) vs. $357 million (69 cents/share) in the same quarter a year earlier. A rise of 61.3% from the year earlier quarter.
Revenue: Rose 4.3% to $3.99 billion YoY.
Actual vs. Wall St. Expectations: CL fell right in step with the street's estimates of $1.16/share.
Quoting Management: Ian Cook, Chairman, President and Chief Executive Officer commented, "We are pleased to have met earnings expectations this quarter despite very sharp increases in material costs and an intense competitive environment globally. Pleasingly, our strong growth momentum in emerging markets, which represent over half of our global sales, continued during the quarter with organic sales growing 5.5% in those markets. Colgate's global market shares in toothpaste and manual toothbrushes are both at record highs year to date. Colgate's share of the global toothpaste market strengthened to 44.7% year to date, up 0.6 share points versus year ago. Our global leadership in manual toothbrushes also strengthened during the quarter with Colgate's global market share in that category reaching 32.4% year to date, up 1.0 share point versus year ago."
Key Stats:
A year-over-year revenue increase last quarter snaps a streak of two consecutive quarters of revenue declines. Revenue fell 2.5% in the fourth quarter of the last fiscal year and fell 1.4% in the third quarter of the last fiscal year.
Net income has increased 8.6% year over year on average across the last five quarters. The biggest gain came in the most recent quarter, when income climbed 61.3% from the year earlier quarter.
Competitors to Watch: The Procter & Gamble Co. (NYSE:PG), Church & Dwight Co., Inc. (NYSE:CHD), The Clorox Company (NYSE:CLX), CCA Industries, Inc. (AMEX:CAW), Unilever plc (NYSE:UL), Avon Products, Inc. (NYSE:AVP), The Stephan Co. (SPCO), Kimberly-Clark Corporation (NYSE:KMB), PC Group, Inc. (PCGR), and Alberto-Culver Company (NYSE:ACV).
Today's Performance: Shares of CL are trading at $81.24 as of April 28, 2011 at 10:21 AM ET, up 0.22% from the previous close.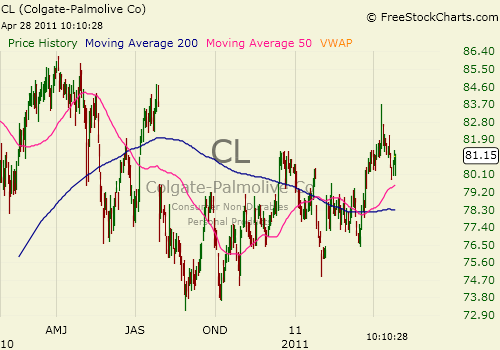 Don't Miss Wall St. Cheat Sheet's newest Feature Trades of the Month!