Comcast Fails in Court Bid and 3 Stocks At 52-Week Highs
Comcast Corporation (NASDAQ:CMCSA): Closing price $41.38
Top domestic television networks such as The Walt Disney Company's (NYSE:DIS) ABC and Comcast's NBC were unable to convince an appeals court to throw out a lower court ruling that denied a preliminary injunction that would have put Aereo out of business, according to Bloomberg. Aereo is a Barry Diller-supported online TV service that the networks claim violates their copyrights. Shares closed down 1.43 percent on Monday at $41.38, and have been traded in a 52-week range of $28.09 to $42.01.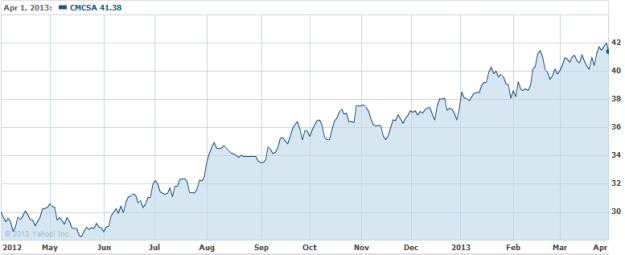 Coventry Health Care (NYSE:CVH): Closing price $47.52
Aetna (NYSE:AET) has completed the divestiture of its Missouri Medicaid unit, called Missouri Care, to WellCare Health Plans (NYSE:WCG). Financial terms were not divulged. As previously reported, the sale of Missouri Care is connected to Aetna's proposed purchase of Coventry Health Care, which operates the Missouri Medicaid plan HealthCare USA. Aetna plans to operate HealthCare USA when the Coventry deal is completed, which should be in mid-2013. Shares closed up 1.04 percent on the day at $47.52, having been traded in a 52-week range of $27.72 to $47.31.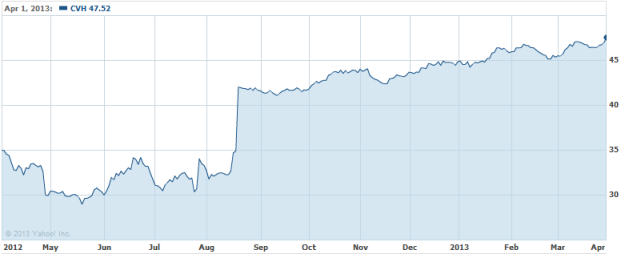 Hess Corportion (NYSE:HES): Closing price $73.54
On Monday, Hess announced that it had reached an agreement with OAO LUKOIL to divest 100 percent of its Russian subsidiary Samara-Nafta for a total amount of $2.05 billion. Based on its 90-percent stake in Samara-Nafta, total after-tax proceeds to Hess should to amount to about $1.8 billion. Output at Samara-Nafta in the Volga-Urals region of Russia is currently 50,000 barrels of oil equivalent per day. Shares closed up 2.7 percent Monday at $73.54, and have been traded in a 52-week range of $39.67 to $72.63.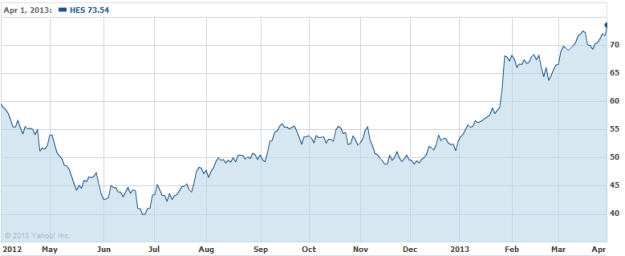 Noble Energy (NYSE:NBL): Closing price $116.00
Globes reports that natural gas began flowing from Israel's large offshore natural gas field, Tamar, on Saturday. Noble Energy holds a 36-percent interest in the field; its shares were added to the short-term buy list at Deutsche Bank on Monday, and they closed up 0.29 percent on the day at $116.00, having been traded in a 52-week range of $76.83 to $116.64.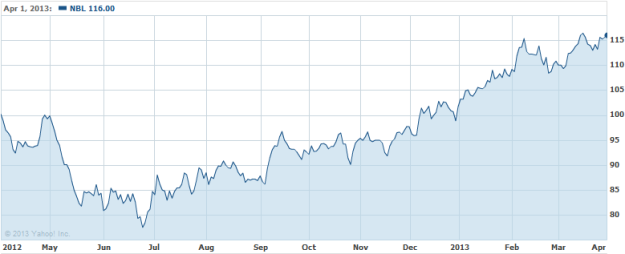 Don't Miss: Did The Bailout Of Cyprus Change The Tone Of The European Crisis?