Comcast Readies Bid for Houston Astros Carrier and 2 More Heavily Traded Stocks to Follow
Comcast Corp. (NASDAQ:CMCSA): Current price $45.01
Court papers indicate that Comcast is readying a bid if it can force a sale of the regional-sports network Houston Regional Sports Network LP, that broadcasts the games of the Houston Astros baseball team and the Houston Rockets, the city's basketball team. Affiliates of Comcast, which owns NBCUniversal, filed for involuntary bankruptcy on Friday against the network, and according to court papers the network should be put up for sale for the benefit of creditors. Court documents say that Comcast "believes the network's assets have meaningful value, and would be prepared to make a bid to acquire either the network (under a plan of reorganization) or substantially all of its assets."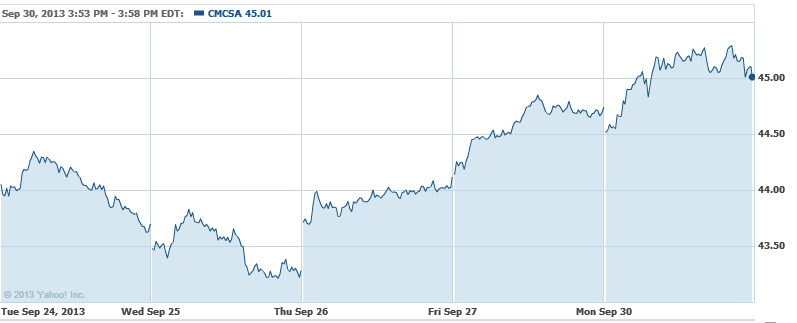 Arena Pharmaceuticals Inc. (NASDAQ:ARNA): Current price $5.29
Shares are down by about 10 percent Monday after analyst Lee Kalowski at Credit Suisse slashed his forecasts for sales of Arena's weight-loss drug Belviq. Kalowski said that sales of Belviq in the third and fourth quarter should be far short of his prior estimates, and he also reduced his annual sales projections for the drug through 2018. Calculated on prescriptions data from July through September, Kalowski said he believes demand for Belviq was about $3.5 million during the quarter, and also that Arena will receive less revenue than that due to discounts, and because wholesalers still have inventories built up. Kalowski rates Arena shares at Underperform and cut his price target from $5 to $4 per share.

Marvell Technology Group Ltd. (NASDAQ:MRVL): Current price $11.50
On Monday, Marvell announced that its ARMADA Mobile world modem has been certified to operate on AT&T's 4G LTE and 3G data networks. The high performance ARMADA Mobile PXA1801 world modem attained AT&T certification for 4G LTE, and 3G supports Category 4 data rates of 150 Megabits-per-second downlink throughput.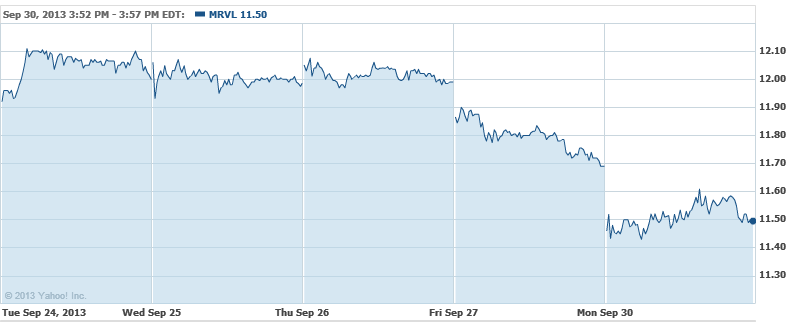 Don't Miss: Is Disney Ready to Continue Its Bull Run?