Commercial Metals Co. Earnings Cheat Sheet: Profit Swings Up and Beats Forecast
Commercial Metals Company (NYSE:CMC) reversed to a profit in the third quarter, beating Wall Street estimates. Commercial Metals Company recycle, manufacture, fabricate and distribute steel and metal products and related materials and services through a network of locations throughout the United States and Internationally.
Don't Miss: Wall St. Cheat Sheet's newest Feature Trades of the Month!
Commercial Metals Company Earnings Cheat Sheet for the Third Quarter
Results: Swung to a profit of $36.2 million (31 cents/diluted share) in the quarter. Commercial Metals Company had a net loss of $8.8 million or a loss 8 cents per share in the year earlier quarter.
Revenue: Rose 17.6% to $2.08 billion YoY.
Actual vs. Wall St. Expectations: CMC beat the mean analyst estimate of 20 cents/share. Estimates ranged from 18 cents per share to 25 cents per share. Analysts were expecting revenue of $2.07 billion.
Quoting Management: CMC Chairman and Chief Executive Officer Murray R. McClean said, "The economic improvements anticipated in last quarter's outlook manifested itself in a turnaround from both the third quarter of last year and the second quarter of this year. Four of our five operating segments achieved profitability, and the remaining segment reduced its losses year over year. Our backlogs continue to grow at higher pricing. With falling scrap prices at quarter end, LIFO expense netted to a relatively modest number for the quarter.  Improved operating performance gave us the confidence to move forward with an important regional acquisition of G.A.M. Steel Pty. Ltd., a leading distributor and processor of long products and plate based in Melbourne, Australia. This operation enhances our existing steel service capabilities in Australia."
Key Stats:
The company has enjoyed double-digit year-over-year revenue growth for the past five quarters. Over that span, the company has averaged growth of 26.4%, with the biggest boost coming in the second quarter when revenue rose 35.5% from the year earlier quarter.
The company topped expectations last quarter after falling short of forecasts in the second quarter with a loss of 40 cents versus a mean estimate of a loss of 7 cents per share.
Gross margins grew 3.6 percentage points to 10.4%. The growth seemed to be driven by increased revenue, as the figure rose 17.6% from the year earlier quarter while costs rose 13.1%.
Competitors to Watch: Schnitzer Steel Industries, Inc. (NASDAQ:SCHN), Steel Dynamics, Inc. (NASDAQ:STLD), AK Steel Holding Corp. (NYSE:AKS), Gerdau SA (NYSE:GGB), Worthington Industries, Inc. (NYSE:WOR), Nucor Corporation (NYSE:NUE), United States Steel Corp. (NYSE:X), Mueller Industries, Inc. (NYSE:MLI), Friedman Industries (AMEX:FRD), and Sutor Tech. Group Ltd. (NASDAQ:SUTR).
Stock Performance: Shares of CMC are up over 5% from the previous close.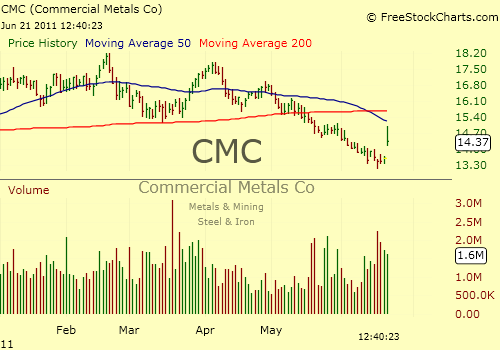 Don't Miss Wall St. Cheat Sheet's newest Feature Trades of the Month!
(Source: Xignite Financials)