Computer Sciences Earnings Cheat Sheet: Keeping the Profitability Streak Alive
S&P 500 (NYSE:SPY) component Computer Sciences Corporation (NYSE:CSC) reported its results for the fourth quarter. Computer Sciences Corporation offers information technology and professional services to commercial and government markets, specializing in the application of complex IT problems.
Don't Miss: Wall St. Cheat Sheet's newest Feature Trades of the Month!
Computer Earnings Cheat Sheet for the Fourth Quarter
Results: Net income for Computer Sciences Corporation fell to $171 million ($1.09/share) vs. $259 million ($1.66/share) a year earlier. A decline of 34% from the year earlier quarter.
Revenue: Rose slightly to $4.2 billion YoY.
Actual vs. Wall St. Expectations: CSC fell short of the mean analyst estimate of $1.16/share. Estimates ranged from $1.10 per share to $1.56 per share. Analysts were expecting revenue of $4.23 billion.
Quoting Management: "The preliminary fourth quarter results are in-line with our updated guidance issued on May two," said Michael W. Laphen, CSC Chairman, President and Chief Executive Officer. "Although Fiscal Year 2011 was challenging given the NHS uncertainty, the unexpected difficulties in the Nordics and the delays in the Federal budgets, I am pleased with the sequential and year over year revenue growth achieved in our commercial business. Excluding the challenges, our business performed as expected in terms of operating margin and free cash flow."
Key Stats:
The company fell short of estimates last quarter after beating the mark the quarter before with net income of $1.54 versus a mean estimate of net income of $1.49 per share.
The decrease in profit last quarter comes after net income rose in the previous quarter. In the second quarter, net income rose 14.7% to $184 million.
Competitors to Watch: Intl. Business Machines Corp. (NYSE:IBM), Hewlett-Packard Company (NYSE:HPQ), SAVVIS, Inc. (NASDAQ:SVVS), Cognizant Tech. Solutions Corp. (NASDAQ:CTSH), TeleTech Holdings, Inc. (NASDAQ:TTEC), WidePoint Corporation (AMEX:WYY), Syntel, Inc. (NASDAQ:SYNT), Rackspace Hosting, Inc. (NYSE:RAX), Unisys Corporation (NYSE:UIS), and Zanett, Inc. (NASDAQ:ZANE).
Stock Performance: Shares of CSC are down 6.44% from the previous close.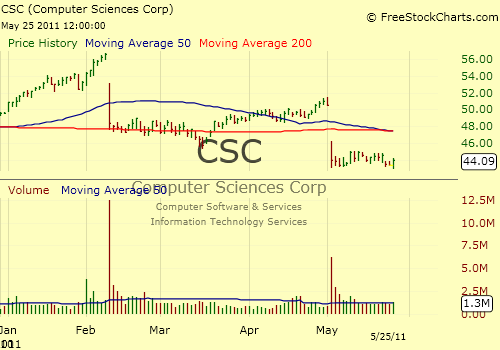 Don't Miss Wall St. Cheat Sheet's newest Feature Trades of the Month!
(Sources: YahooFinance, Xignite Financials)