Compuware Corp Earnings Cheat Sheet: The Profit Streak Continues
S&P 500 (NYSE:SPY) component Compuware Corporation (NASDAQ:CPWR) reported its results for the fourth quarter. Compuware Corporation provides software products and professional services that improve the performance of information technology organizations.
Don't Miss: Wall St. Cheat Sheet's newest Feature Trades of the Month!
Compuware Earnings Cheat Sheet for the Fourth Quarter
Results: Net income for the application software company fell to $34.8 million (16 cents/share) vs. $37.4 million (16 cents/share) a year earlier. A decline of 6.8% from the year earlier quarter.
Revenue: Rose 8.5% to $249.6 million YoY.
Actual vs. Wall St. Expectations: CPWR beat the mean analyst estimate of 14 cents/share. Estimates ranged from 14 cents per share to 16 cents per share. Analysts were expecting revenue of $250.2 million.
Quoting Management: "Compuware and its growth drivers produced a strong fiscal year 2011," said Compuware President and COO Bob Paul. "Our unique abilities to solve key business problems in the application performance management and secure collaboration markets in particular have driven phenomenal growth, which we expect to continue. Combined with our laser focus on profitability in Mainframe Solutions, Professional Services and Uniface, we have positioned Compuware to deliver increases in revenues, earnings per share and operating cash flow for fiscal 2012."
Key Stats:
Revenue has now gone up for three straight quarters. In third quarter, revenue rose 7.5% to $247 million while the figure rose 3.6% in second quarter from the year earlier.
The company has now fallen in line with estimates for the past two quarters. It reported net income of 15 cents in third quarter.
The decrease in profit last quarter comes after net income rose in the previous quarter. In the second quarter, net income rose 39.3% to $26 million.
Competitors to Watch: Oracle Corporation (NASDAQ:ORCL), CA, Inc. (NASDAQ:CA), Intl. Business Machines Corp. (NYSE:IBM), Quest Software, Inc. (NASDAQ:QSFT), BMC Software, Inc. (NASDAQ:BMC), Novell, Inc. (NASDAQ:NOVL), Red Hat, Inc. (NYSE:RHT), Microsoft Corporation (NASDAQ:MSFT), OPNET Technologies, Inc. (NASDAQ:OPNT), and Sybase, Inc. (SY).
Stock Performance: Shares of CPWR are down 4 cents after hours.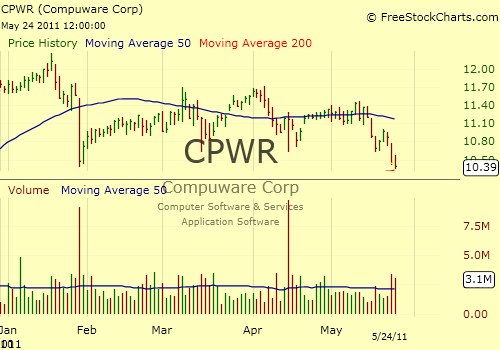 Don't Miss Wall St. Cheat Sheet's newest Feature Trades of the Month!
(Sources: YahooFinance, Xignite Financials)