Comtech Earnings Cheat Sheet: Profit Falls Behind Revenue Decline
Comtech Telecommunications Corp. (NASDAQ:CMTL) posted a decrease in profit as revenue declined. Comtech Telecommunications Corporation designs, develops, produces and markets innovative products, systems and services for advanced communications solutions.
Don't Miss: Wall St. Cheat Sheet's newest Feature Trades of the Month!
Comtech Telecommunications Corp Earnings Cheat Sheet for the Third Quarter
Results: Net income for Comtech Telecommunications Corp. fell to $14.3 million (47 cents/share) vs. $21.8 million (67 cents/share) a year earlier. A decline of 34.6% from the year earlier quarter.
Revenue: Fell 39.4% to $131.1 million YoY.
Actual vs. Wall St. Expectations: The mean estimate for CMTL was 39 cents/share. Estimates ranged from 36 cents per share to 44 cents per share.
Quoting Management: In commenting on the Company's performance, Fred Kornberg, President and Chief Executive Officer, stated, "Despite lower than expected sales for the third quarter, we once again posted solid quarterly results. Sales for the third quarter did not include originally anticipated shipments related to certain MTS hardware orders. These hardware orders are now expected to ship during the fourth quarter of fiscal 2011. Mr. Kornberg added, "We continue to expect annual sales and related operating income from the U.S. Army to significantly decline from current levels. Nevertheless, I remain optimistic about our future direction. With deployable cash of approximately $590 million, we continue to focus our acquisition efforts on a number of opportunities that we believe would complement our existing businesses, diversify our customer base and align with our long-term strategy."
Key Stats:
The company has now seen net income fall in each of the last two quarters. In the second quarter, net income fell 1.5% from the year earlier quarter.
Revenue has fallen in the past two quarters. In second quarter, revenue declined 4.9% to $162.8 million from the year earlier quarter.
Competitors to Watch: ViaSat, Inc. (NASDAQ:VSAT), Globecomm Systems, Inc. (NASDAQ:GCOM), EMS Technologies, Inc. (NASDAQ:ELMG), Harris Corporation (NYSE:HRS), General Dynamics Corp. (NYSE:GD), CalAmp Corp. (NASDAQ:CAMP), PHAZAR CORP. (NASDAQ:ANTP), Motorola Solutions Inc (NYSE:MSI), AT&T (NYSE:T), Sprint (NYSE:S), Verizon (NYSE:VZ), KVH Industries, Inc. (NASDAQ:KVHI), and LM Ericsson (NASDAQ:ERIC).
Stock Performance: Shares of CMTL are trading at $26.74 per share.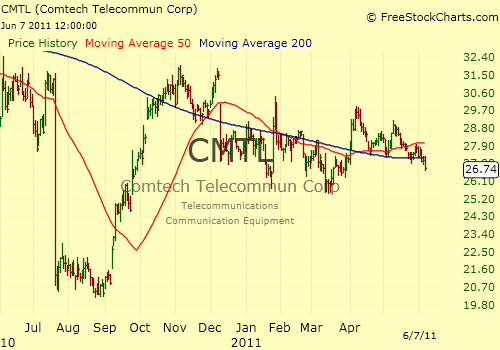 Don't Miss Wall St. Cheat Sheet's newest Feature Trades of the Month!
(Sources: YahooFinance, Xignite Financials)