ConAgra Earnings Cheat Sheet: Streak of Four Straight Profit Declines Snapped
S&P 500 (NYSE:SPY) component ConAgra Foods, Inc. (NYSE:CAG) reported its results for the fourth quarter. ConAgra Foods, Inc. is a food company that supplies frozen potato and sweet potato products, as well as other vegetable, spice, and grain products to restaurants, foodservice operators and commercial customers.
Don't Miss: Wall St. Cheat Sheet's newest Feature Trades of the Month!
ConAgra Foods Earnings Cheat Sheet for the Fourth Quarter
Results: Net income for ConAgra Foods, Inc. rose to $254.9 million (61 cents/share) vs. $90.6 million (20 cents/share) in the same quarter a year earlier. A more than twofold rise from the year earlier quarter.
Revenue: Rose 5.2% to $3.21 billion YoY.
Actual vs. Wall St. Expectations: CAG reported adjusted net income of 47 cents/share. By that measure, the company fell short of mean estimate of 48 cents/share. Estimates ranged from 46 cents per share to 49 cents per share. Analysts were expecting revenue of $3.18 billion.
Quoting Management: Gary Rodkin, ConAgra Foods' chief executive officer, said, "Overall marketplace and economic conditions remain challenging, as our Consumer Foods segment incurred 9% cost inflation this quarter. We are, however, demonstrating progress in some key areas of our business. Net pricing has begun to improve in Consumer Foods sales, cost savings are on track, and Lamb Weston and flour milling operations are delivering stronger results for our Commercial Foods segment. High input costs and difficult economic conditions are expected to continue to create challenges in fiscal 2012; additional pricing actions are under way, and productivity initiatives should continue to be strong. Despite the challenging circumstances, we expect our overall fiscal 2012 to show low- to mid-single digit EPS growth, adjusted for items impacting comparability; we remain committed to our long-term EPS growth goal of 6-8% annually."
Key Stats:
Last quarter's profit increase breaks a streak of four consecutive quarters of year-over-year profit drops. In the third quarter, net income fell 6.4% from the year earlier while the figure fell 16.2% in the second quarter, 11.8% four quarters ago and 48.1% five quarters back.
The company fell short of estimates last quarter after beating the mark the quarter before with net income of 50 cents versus a mean estimate of net income of 46 cents per share.
The company's revenue has now risen for two straight quarters. In the third quarter, revenue increased 1.9% to $3.15 billion from the year earlier quarter.
Competitors to Watch: General Mills, Inc. (NYSE:GIS), TreeHouse Foods Inc. (NYSE:THS), Lancaster Colony Corp. (NASDAQ:LANC), Kraft Foods Inc. (NYSE:KFT), J&J Snack Foods Corp. (NASDAQ:JJSF), Seneca Foods Corporation (NASDAQ:SENEB), The Hain Celestial Group, Inc. (NASDAQ:HAIN), H.J. Heinz Company (NYSE:HNZ), The J.M. Smucker Company (NYSE:SJM), and Ralcorp Holdings, Inc. (NYSE:RAH).
Stock Performance: Shares of CAG are down over 1% today.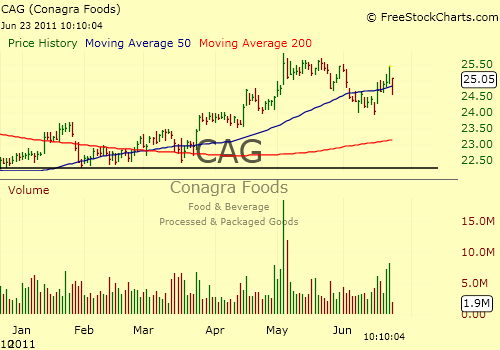 Don't Miss Wall St. Cheat Sheet's newest Feature Trades of the Month!
(Source: Xignite Financials)