Congress Finally Makes Progress, Gold and Silver Edge Higher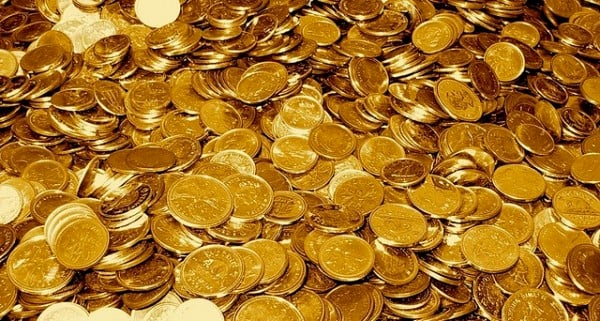 On Wednesday, gold (NYSEARCA:GLD) futures for December — the most active contract — increased $9.10 to close at $1,282.30 per ounce, while silver (NYSEARCA:SLV) futures gained 17 cents to finish at $21.37. However, major exchanged-traded funds, like the SPDR Gold Trust and iShares Silver Trust, finished the day in the red.
Gold and silver were mixed as Congress finally agreed on a stopgap measure to avoid breaching the debt limit and reopen the government. Speaking early Wednesday afternoon, Senate Majority Leader Harry Reid (D-Nev.) said that he was confident a bipartisan proposal would be able to make its way through both houses and to President Obama's desk.
The deal is clearly a short-term plan. It would fund the government until January 15 and raise the debt limit until February 7. In the interim, the measure establishes a mechanism for policymakers to negotiate on a longer-term solution. The measure protects deep federal spending cuts that have been at the core of the Republican agenda.
The progress on Capitol Hill came less than 24 hours Fitch Ratings placed U.S. debt on Rating Watch Negative. "Although Fitch continues to believe that the debt ceiling will be raised soon, the political brinkmanship and reduced financing flexibility could increase the risk of a U.S. default," Fitch said. "The repeated brinkmanship over raising the debt ceiling also dents confidence in the effectiveness of the U.S. government and political institutions, and in the coherence and credibility of economic policy. It will also have some detrimental effect on the U.S. economy."
By the end of the trading day, shares of the SPDR Gold Trust (NYSEARCA:GLD) and iShares Silver Trust (NYSEARCA:SLV) dipped lower. Gold miners (NYSEARCA:GDX) Barrick Gold (NYSE:ABX) and Newmont Mining (NYSE:NEM) both fell nearly 1 percent. Shares of Endeavour Silver (NYSE:EXK) dropped 1.5 percent.
Don't Miss: David Einhorn: Apple Is Still a Winner
Follow Eric on Twitter @Mr_Eric_WSCS
If you would like to receive professional analysis on miners and other precious metal investments, we invite you to try our premium service free for 14 days.
Disclosure: Long EXK, AG, HL, PHYS