Congressional Obamacare Oversight: Publicity Stunt or Civic Duty?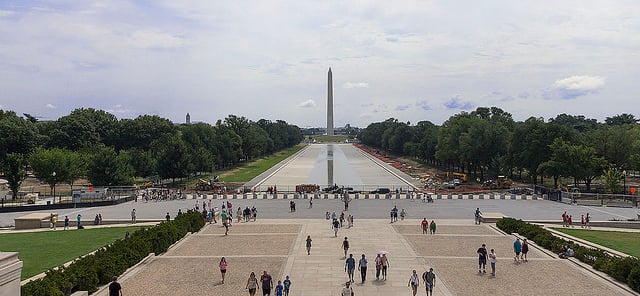 Congressional oversight is an integral part of the system of checks and balances written into the U.S. Constitution. In order to review, monitor, and supervise federal agencies, programs, and policy implementation, the legislative branch of the U.S. government relies largely on the Congressional committee system.
As President Woodrow Wilson wrote as a young political scientist, "Quite as important as legislation is vigilant oversight of administration." To the Republican Party as a whole, the implementation of President Barack Obama's signature health care reform has become just what Max Baucus — the Democratic chairman of the Senate's Finance Committee and a key architect of the Affordable Care Act — told Health and Human Services Secretary Kathleen Sebelius it would be back in April: A train wreck, and that reality means oversight is necessary.
Republicans have have employed a slew of tactics to derail, defund, or repeal the reform law, known popularly as Obamacare. The House of Representatives has voted more than 46 times to defund or dismantle Obamacare. When Obama signed health care reform into law on March 23, 2010, 14 state attorneys general filed lawsuits against the law's requirement that most Americans to purchase health insurance, and eventually, the Supreme Court had to rule on the issue of its constitutionality.
Measures banning the Affordable Care Act were even put before voters in several states, and because House Republicans refused to pass any continuing resolutions funding the health care reform, the federal government was partially shut down for 16 days at the beginning of October. However, Congressional hearings have by far been the GOP's most effective strategy to highlight what many lawmakers see as an unacceptable level of incompetence in the Obama administration's implementation of the health care reform.
Director of public policy for the Project on Government Oversight Angela Canterbury described how Congressional hearings have a way of focusing attention on the problems plaguing the federally facilitated health care exchanges in an interview with USA Today. "There's a legitimate need for some scrutiny and some pressure," she said to the publication. "You want to get attention to the issue. Yes, some of these hearings are highly charged and political, and those are the ones that get into the newspapers."
Two hearings are scheduled for this week, and five hearings have been held since the October 1 launch of the cornerstone provision of the Affordable Care Act, the online insurance marketplaces designed to make coverage more affordable and accessible to many of the country's 48 million uninsured. Those hearings — characterized by apologies from both Sebelius and Centers for Medicare and Medicaid Services Administrator Marilyn Tavenner — have brought to light a few admissions.
While the information may not have been surprising or all that revealing, Congress did learn a few things. Sebelius said that the error-riddled federal website, Healthcare.gov, would likely mean low sign-ups for the first six weeks of the enrollment period. Federal contractors also told representatives that the Obama administration was forewarned that the federal health care exchange was not ready for enrollment one month before the exchanges were scheduled to go live.
Congress has issued two subpoenas and dozens of requests for information that have resulted in significant revelations. In the past 10 years, the House Ways and Means Committee has issued two subpoenas, and both were related to the Affordable Care Act. One in particular was for raw data on enrollments made through federally facilitated  exchanges. So far, administration officials have maintained that no data will be reported until mid-November, but documents obtained by Republican Rep. Darrell Issa of California show that in the first day after the federal online marketplaces went live, just six people nationwide had actually enrolled for insurance plans.
By the second day, that number had risen to 248. Those figures were included in notes from twice-a-day "war room" meetings convened at the Centers for Medicare and Medicaid Services after the federal website's glitch-plagued October 1 launch. The notes were released on the night of October 31 to the House of Representative's Oversight and Government Reform Committee, which Issa chairs.
Also among the information obtained by Congressional request was the disclosure that Healthcare.gov broke down after only 1,100 potential enrollees attempted to create accounts, and paper applications were hampered by the same problems. Furthermore, in lieu of the information that administration officials have been so slow to release, Congress has pressed the federal contractors who designed the website and insurance companies offering policies on the exchanges to release information.
But the "war room" meeting notes that involved government officials and contractors will no longer be able to add knowledge to the Congressional investigation. While a Department of Health and Human Services spokeswoman would not confirm to USA Today whether the agency had instructed the contractor to stop taking notes, she did say the notes were not official records of the meetings.
"We continue to work diligently to cooperate with Congress," HHS press secretary Joanne Peters told USA Today, noting that officials have testified at more than two dozen hearings since 2010 and provided thousands of pages of documents.
Meanwhile, Congressional hearings tied to the problems that derailed the rollout of Healthcare.gov are continuing. White House Chief Technology Officer Todd Park is scheduled to appear before the House Oversight Committee on Wednesday, along with four other witnesses who are members of the Obama administration. The administration tried to decline the invitation in a letter to Issa that explained Park was too busy fixing the still-troubled federal health care website, but that he could testify in December.
In response, Issa wrote, "Given your unique unwillingness to appear voluntarily next week, I am left with no choice but to compel your appearance."
"They can't wait two weeks or three weeks for him to testify?" asked Rep. Elijah Cummings (D-Md.), the ranking Democrat on the committee, USA Today reports. He saw the subpoena as evidence that the Republicans wanted to distract the top administration officials from fixing the technical problems.
"It pains me to say this, but it's about trying to make sure there's another roadblock to making it work," he added, according to USA Today. That is the general tenor of sentiments expressed by many Democrats, including the ranking Democrat on the House Ways and Means Committee, Rep. Sandy Levin, (D-Mich.), who has said the GOP "obsession" with the Affordable Care Act is preventing Congress from accomplishing anything. "I'm all in favor of oversight. This isn't oversight to make things better. This is oversight to make sure things get worse," he told the publication.
But to other lawmakers, Congressional inquiry is an important part of the job. "Everybody has constituents. Everybody's getting questions," Sarah Swinehart, a spokeswoman for Republicans on the committee, told USA Today. The debate over health insurance was theoretical before, but "now it's part of people's lives, and these decisions are starting to affect everyone," she said. But some political analysts have argued that the hearings are a case of publicity for publicity's sake.
"Oversight has become unhinged in the current political system. It's not about solving problems," Matthew Dull, an associate professor at Virginia Tech's Center for Public Administration and Policy, told USA Today. "It's about an audience. It's about politics. It's about agenda-setting." Aggressive, publicity-seeking oversight is nothing new, according to Dull, who also quoted a doctoral thesis authored in 1885 by Woodrow Wilson. "Congress cannot control the officers of the executive without disgracing them," the president wrote.
Follow Meghan on Twitter @MFoley_WSCS
Don't Miss: Will Obama Get the Chance to Execute His Ambitious Plans?