Consumer Sentiment Hits 4-Month Low, Expectations Decline Again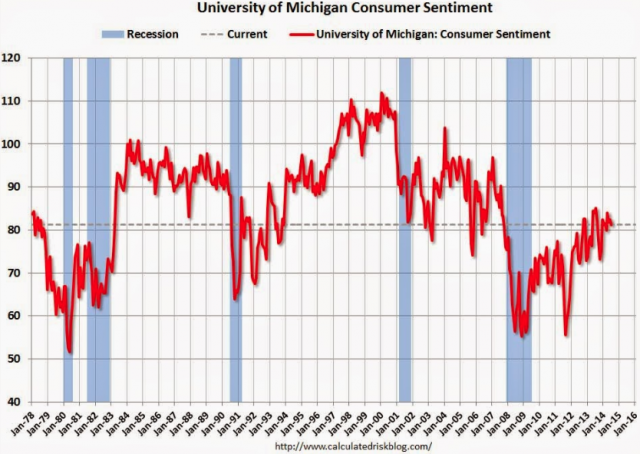 Amid a worse-than-expected gross domestic product reading but a declining unemployment rate, consumer sentiment fell this month as Americans remain stuck in a bifurcated economy. According to Thomson Reuters/University of Michigan's preliminary reading, consumer sentiment dropped to 81.3 in July – its lowest level in four months, compared to the final June reading of 82.5.
The results missed expectations. On average, economists forecasted the index to reach 83 this month. The consumer gauge has only posted two monthly gains this year, which occurred in April and June. Last year, consumer sentiment ranged from a low of 73.2 in October to a high of 85.1 in July.
On the positive, consumer sentiment has been relatively stable recently. "The most remarkable aspect of recent trends in consumer confidence has been its resistance to change in either direction due to very negative GDP nor very positive employment gains," survey director Richard Curtin said in a statement. "This stability will provide the necessary strength for consumer spending to continue to expand, but does not support an acceleration in spending above 2.5 percent."
During the last recession, the index averaged slightly above 64. In the five years before the financial crisis, it averaged almost 90. Consumer sentiment is one of the most popular measures of how Americans rate financial conditions and attitudes about the economy. The University of Michigan's Consumer Survey Center questions 500 households each month for the index.
Current economic conditions, which measure whether Americans think it is a good time to make large investments, were better than expected and rose from 96.6 in June to 97.1 in July. However, consumer expectations were worse than estimated, dipping to 71.1 from 73.5. In fact, consumer expectations have declined for three consecutive months.
The survey's one-year inflation expectation came in at 3.3 percent, up from 3.1 percent. Meanwhile, the survey's five- to ten-year inflation outlook edged lower to 2.6 percent.
More From Wall St. Cheat Sheet:
Follow Eric on Twitter @Mr_Eric_WSCS
Want more great content like this? Sign up here to receive the best of Cheat Sheet delivered daily. No spam; just tailored content straight to your inbox.