Consumer Sentiment Hits Highest Level Since July 2007
Despite an overall sluggish economy, consumer sentiment in the United States reached its best level in almost six years.
According to the Thomson Reuters/University of Michigan's final reading, consumer sentiment in May rose to 84.5, compared to 76.4 in April. This is the highest level for the index since July 2007. The median forecast in a Bloomberg survey called for an increase to 83.7. The overall range of estimates varied from 81.5 to 85.8.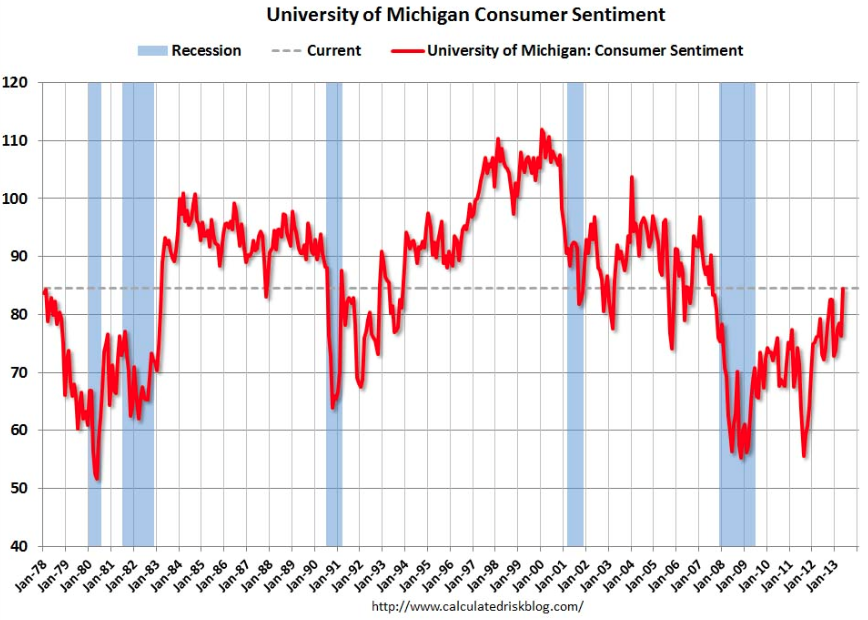 During the last recession, the index averaged slightly above 64. In the five years before the financial crisis, it averaged almost 90. Consumer sentiment is one of the most popular measures of how Americans rate financial conditions and attitudes about the economy. The University of Michigan's Consumer Survey Center questions 500 households each month for the index.
The reading on current economic conditions, which measures whether Americans think it is a good time to make large investments, jumped from 89.9 in April to 98.0 in May, the highest level since August 2007. Meanwhile, consumer expectations improved from 67.8 to 75.8.
Unsurprisingly, the largest gains in sentiment were seen among wealthy households — which hold the majority of stocks, but even middle and lower income households are starting to feel better about their personal finances.
"The data clearly suggest a faster pace of growth in consumer spending during the year ahead than was anticipated even one month ago," survey director Richard Curtin said in a statement.
The results echo other consumer confidence readings. According to the most recent Gallup poll, U.S. confidence is hanging near five-year highs made earlier in May. Furthermore, the weekly Bloomberg Consumer Comfort index is near five-year highs, with the personal finance measure climbing higher for six consecutive weeks.
Don't Miss: 3 Signs of Hope for the Student Debt Bubble
Follow Eric on Twitter (@Mr_Eric_WSCS)