Consumer Sentiment Hits Highest Level Since July 2007
Despite an overall sluggish economy, consumer sentiment in the United States reached its best level in almost six years.
According to the Thomson Reuters/University of Michigan's preliminary reading, consumer sentiment in early May rose to 83.7, compared to 76.4 in April. This is the highest level for the index since July 2007. The median forecast in a Bloomberg survey called for a modest increase to 77.9. In fact, the preliminary reading beat every estimate in the survey.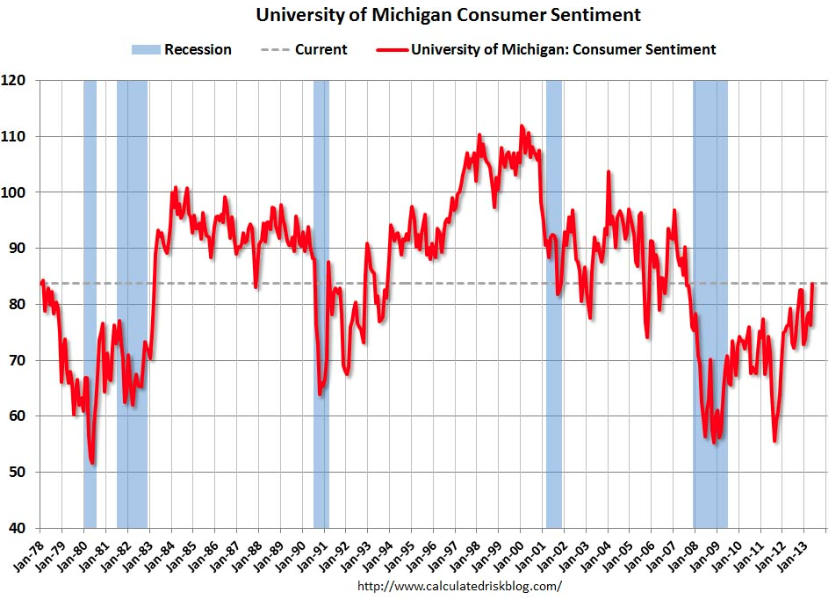 During the last recession, the index averaged slightly above 64. In the five years before the financial crisis, it averaged almost 90. Consumer sentiment is one of the most popular measures of how Americans rate financial conditions and attitudes about the economy. The University of Michigan's Consumer Survey Center questions 500 households each month for the index.
The reading on current economic conditions, which measures whether Americans think it is a good time to make large investments, jumped from 89.9 in April to 97.5 in May, the highest level since October 2007. Meanwhile, consumer expectations improved from 67.8 to 74.8.
More consumers are feeling better about their personal finances, but the largest gains were among households in the upper third income levels, as stocks continue to hit fresh all-time highs and home prices rebound. Affecting all households, the average price of a gallon of gas has also declined in recent weeks.
Earlier this week, Bloomberg's gauge on consumer comfort hit a five-month high, providing hope that the American consumer is finding ways to survive. Mike Englund, chief economist at Action Economics, tells Bloomberg, "We've got a consumer that's been stunningly resilient to tax hikes and sequestration. It's not an optimistic consumer, but it's a resilient one."
Don't Miss: What is Warren Buffett Buying and Selling?