Consumer Sentiment Takes a Surprising Turn
Despite sluggish economic growth and lingering high rates of unemployment, consumer sentiment in the United States remains near six-year highs.
According to the Thomson Reuters/University of Michigan's final reading, consumer sentiment in June came in at 84.1, a slight decrease from 84.5 in May. Last month's reading was the best level for the index since July 2007.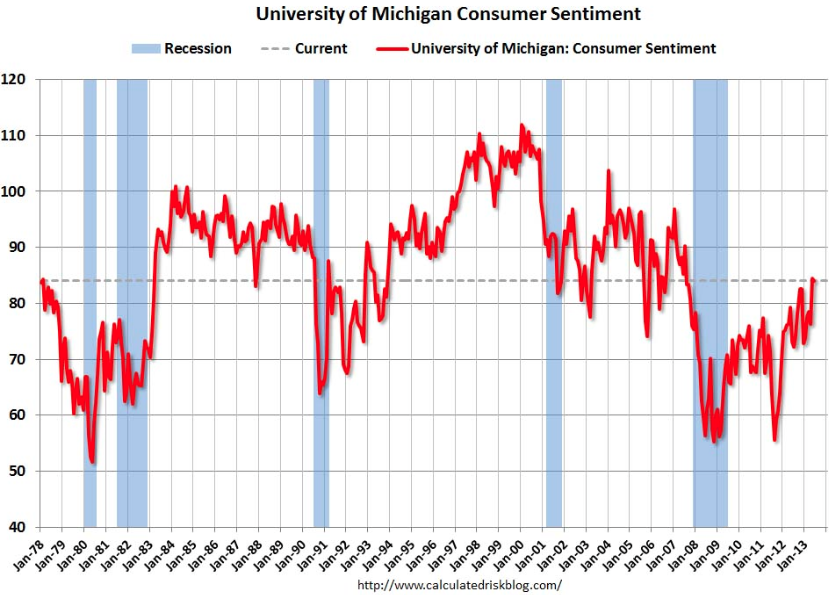 Although the index declined from the prior month, the final June reading was higher than the preliminary reading of 82.7. Economists polled by Reuters expected a final June reading of only 82.8.
During the last recession, the index averaged slightly above 64. In the five years before the financial crisis, it averaged almost 90. Consumer sentiment is one of the most popular measures of how Americans rate financial conditions and attitudes about the economy. The University of Michigan's Consumer Survey Center questions 500 households each month for the index.
The reading on current economic conditions, which measures whether Americans think it is a good time to make large investments, dropped from 98.0 in May to 93.8 in June. However, economists expected a reading of 92.8 and consumer expectations improved from 75.8 to 77.8 — the highest level since October.
Richard Curtin, survey director, said in a statement, "Consumers believe the economic recovery has achieved an upward momentum that will not be easily reversed. To be sure, few high or low income consumers expect the economy to post robust gains or think the unemployment rate will drastically shrink during the year ahead."
In morning trading, stocks declined across the board. The Dow Jones Industrial Average fell more than 100 points, while the S&P 500 and Nasdaq both traded in the red. Consumer giants such as Walmart (NYSE:WMT) and Disney (NYSE:DIS) were among the best performing stocks in the Dow.
Don't Miss: Will Gold Ever Get its Shine Back?
Follow Eric on Twitter (@Mr_Eric_WSCS)