Consumers and Investors Love These 5 Companies
Believe it or not, the amount of money consumers spend on a daily basis is at its highest level in almost five years – giving hope to a true economic recovery.
Last month, Americans said they spent an average of $90 each day, excluding big ticket items and normal household expenses, according to a Gallup poll of more than 15,000 people. That is the highest amount of spending since October 2008. In comparison, spending is up from $86 in April.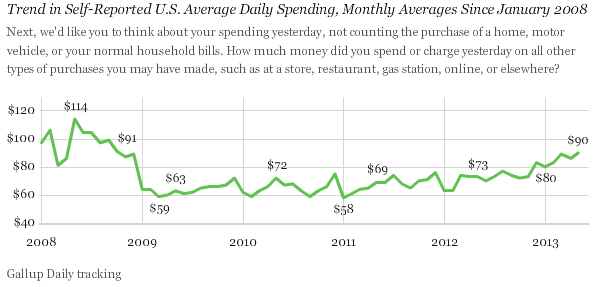 Since Gallup started keeping track in January 2008, consumer spending peaked at $114 per day in May of the same year. The average hit $59 during the Great Recession, and reached an all-time low of $58 in January 2011. Spending stayed in the low $70 range for most of last year.
While the strength of the recovery is debatable and dependent on the Federal Reserve, several consumer-related stocks have benefitted from the increase in spending this year. Here's a look at five popular companies that are outperforming the S&P 500 year-to-date.
Starbucks (NASDAQ:SBUX):
The global coffee company has rallied for the past several years, but shares have managed to climb another 21.3 percent this year. For the first three months of 2013, Starbucks reported that revenue jumped 11 percent to a record $3.6 billion, compared to $3.2 billion a year earlier. Global comparable store sales has increased for thirteen consecutive quarters.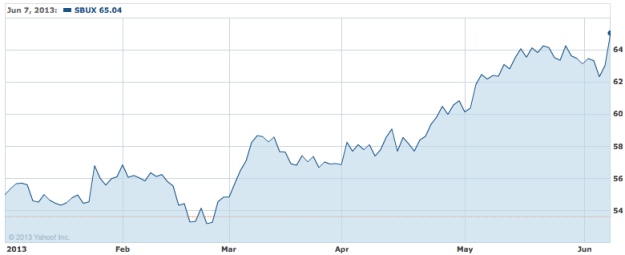 "Starbucks record operating performance in Q2 continues to demonstrate the underlying strength and resilience of our expanding global business, and the increasing relevance of the Starbucks brand to consumers all around the world," said Howard Schultz, chairman, president, and chief executive officer. "Innovation and an enhanced customer experience drove strong comp sales and revenue growth, while a laser focus on improving efficiency and controlling costs enabled us to deliver record margins and earnings."
Ford Motor (NYSE:F):
Gallup's poll excluded vehicle spending, but there is a clear rebound taking place across the auto industry. Shares of Ford have gained 21.5 percent year-to-date, and more than 150 percent over the past five years.

In May, Ford's sales increased 14 percent compared to a year earlier. It was the best May showing since 2006. Sales of the F-Series, America's best-selling pickup for 36 years, surged 31 percent in May.
Gap (NYSE:GPS):
The San Francisco-based apparel retailer continues to attract customers and investors. Shares have gained 35.6 percent this year. Last week, Gap reported that May net sales increased 11 percent compared with a year earlier. Net sales for the four-week period ended June 1, 2013 came in at $1.22 billion, compared with net sales of $1.10 billion for the four-week period ended May 26, 2012.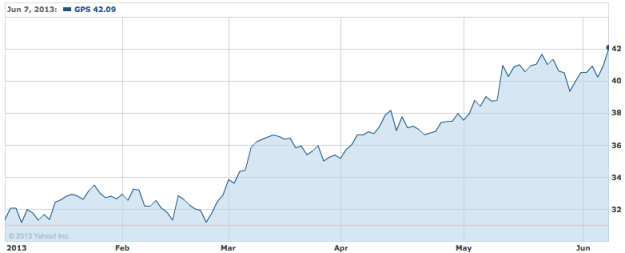 "We are pleased with the positive customer response to summer product across our brands and the continued momentum in the business," said Glenn Murphy, chairman and chief executive officer of Gap.
Tiffany & Co. (NYSE:TIF):
The jeweler and specialty retailer has received a boost from Fed Chairman Ben Bernanke's wealth effect. With stock prices hitting fresh all-time highs this year, the wealthy are more likely than ever to enjoy diamond-related luxuries. Shares of Tiffany have jumped 38.3 percent year-to-date.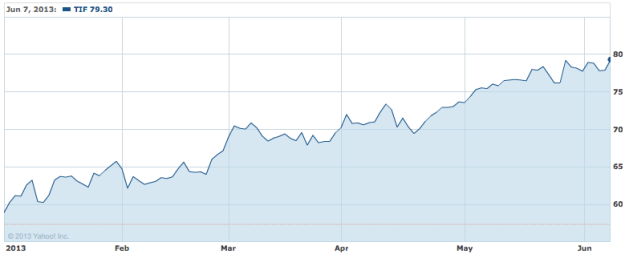 For the first quarter ended April 30, 2013, Tiffany posted a 9 percent increase in worldwide sales. In the Americas region, total sales grew 6 percent to $408 million.
Netflix (NASDAQ:NFLX):
The streaming media company is currently the best performer in the S&P 500. Shares are up nearly 140 percent year-to-date. In the first quarter, Netflix added more than 2 million domestic users and launched its first ever original series, called House of Cards.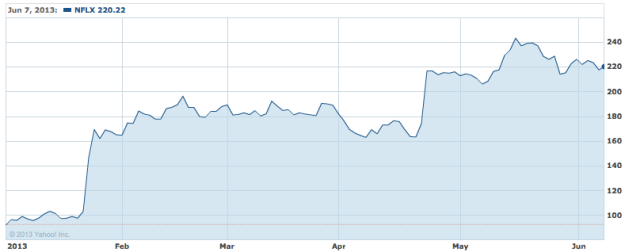 Many people are not impressed with Netflix's online library, but it is still one of the cheapest forms of entertainment and the company continues to make changes. Reed Hastings, chief executive officer, explained, "We've seen improvements in our business over the last year in content, in our product, in optimizing the way we process payments, and in the general recovery of our brand. All of these improvements contribute to higher member satisfaction, which we see in higher year-over-year levels for members' likelihood to recommend our service."
Don't Miss: Is Student Debt the Real Fiscal Cliff?
Follow Eric on Twitter (@Mr_Eric_WSCS)