Consumers Continue to Tread Water in Choppy Economy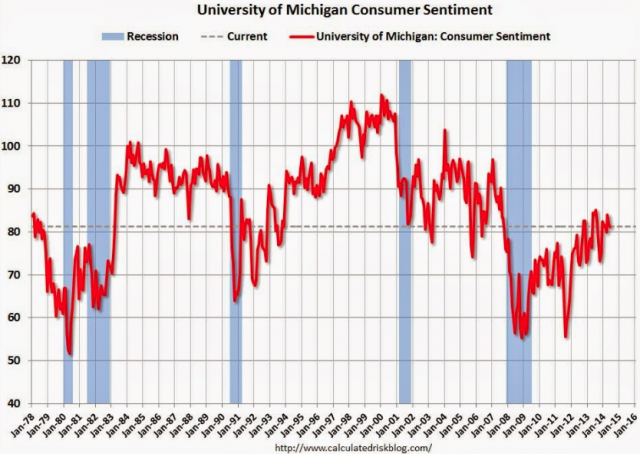 Consumer sentiment is off to a weak start this month as Americans are not receiving much relief from financial pressures. According to Thomson Reuters/University of Michigan's preliminary reading, consumer sentiment dropped to 81.2 in June compared to a final reading of 81.9 in May.
The results were worse than expected. On average, economists expected the index to climb higher and reach 83.0 this month. The consumer gauge has only posted one monthly gain this year, which occurred in April, when the index reached its highest level in nine months. In 2013, consumer sentiment ranged from a low of 73.2 in October to a high of 85.1 in July.
Despite the recent dip, consumer sentiment is holding up rather well. "The change from May was too small to indicate a significant loss in sentiment," explained survey director Richard Curtin. "The small month-to-month variations aside, the main finding from the recent surveys is that consumers have maintained their expectations at reasonably favorable levels for the past six months."
During the last recession, the index averaged slightly above 64. In the five years before the financial crisis, it averaged almost 90. Consumer sentiment is one of the most popular measures of how Americans rate financial conditions and attitudes about the economy. The University of Michigan's Consumer Survey Center questions 500 households each month for the index.
Current economic conditions, which measure whether Americans think it is a good time to make large investments, were worse than expected but rose from 94.5 in May to 95.4 in June. Consumer expectations were also worse then estimated at 72.2, down from 73.7 in the prior month.
The survey's one-year inflation expectation came in at 3.0 percent, down from 3.3 percent. Meanwhile, the survey's five-to-10-year inflation outlook was 2.9 percent.
More From Wall St. Cheat Sheet:
Follow Eric on Twitter @Mr_Eric_WSCS