Consumers Hesitate to Increase Spending as Economy Drifts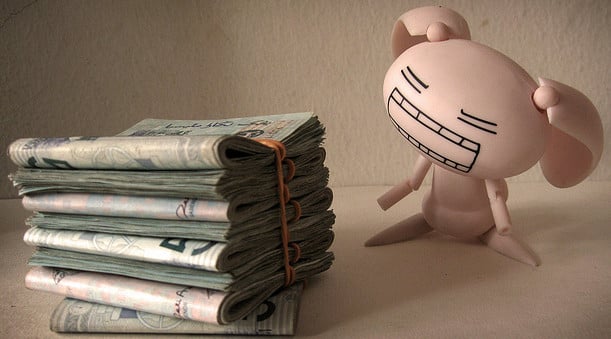 Right now, the U.S. economy feels a lot like a glass cannon. Equities have surged to record highs — the S&P 500 recently broke 1,700 for the first time – corporate profits have exploded in the post-crisis era, and, for the moment, the federal deficit is shrinking. At a glance, all this points to the type of economic movement that means brighter days are ahead.
But headline unemployment remains elevated at 7.4 percent. While this has improved from a high of 10 percent following the crisis, alternative measures of labor market health like the U-6 rate and payroll-to-population ratio have shown less improvement.
As of July, about 36.5 percent of those unemployed have been without a job for 27 weeks or more. This type of information undermines much of the optimism generated by strong performance out of corporate America. Consumer confidence measured by Gallup, while still high relative to the post-crisis average, has declined over the past two months.
At the end of the day, it looks like economic recovery in the U.S. over the past few years has been lopsided. Wall Street has prospered while much of Main Street continues to suffer, and consumers — who together make up the lion's share of U.S. economic activity — have been slow to open up their wallets.
Gross domestic product increased at an annualized rate of 1.7 percent in the second quarter, according to an advance estimate from the U.S. Department of Commerce. Increases in business spending, growth in exports, and a smaller decrease in government spending helped fuel growth, which at 1.7 percent was better than expected. However, first-quarter GDP growth was downwardly revised to just 1.1 percent.
Higher taxes, implemented by lawmakers in Washington to help lower the government's budget deficit, slowed consumer spending, which was a main reason why economic activity was lackluster last quarter. Consumer spending, which accounts for as much as 70 percent of economic growth, dropped to a 1.8 percent growth rate in the second quarter after rising at a 2.3 percent rate in the first quarter.
It was the third consecutive quarter in which GDP growth fell below 2 percent, a pace that is usually considered to be too weak to significantly bring down unemployment. The unemployment rate came in at 7.5 percent in April before rising to 7.6 percent in May, where it has remained. Still, payroll processor ADP reported that companies added 200,000 jobs in July.
On the plus side, the slowdown in consumer spending kept inflation pressure minimal. Personal consumption expenditures remained unchanged while prices rose just 0.8 percent, excluding food and energy. Both of those readings were the lowest on record since the first quarter of 2009.
On Monday, Gallup released the the July update to its self-reported consumer spending survey. For the report, Gallup measured average daily consumer spending — excluding major purchases like homes and cars or household bills — from 14,000 Americans. Participants reported spending an average of $89 per day in July, down marginally from $90 in June and May.
Average daily spending among those earning less than $90,000 per year edged marginally upward from $77 in June to $78 in July. Among those earning more than $90,000 per year, average daily spending increased from $143 to $158. Average spending was highest in the East and West ($98 and $97, respectively), lower in the South ($88), and lowest in the Midwest ($76).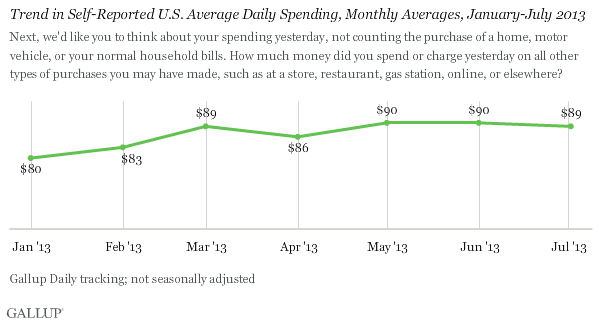 Don't Miss: BofA's Financial Crisis Hangover Lives to See Another Day.