Consumers: It's Hard to Believe in This Economy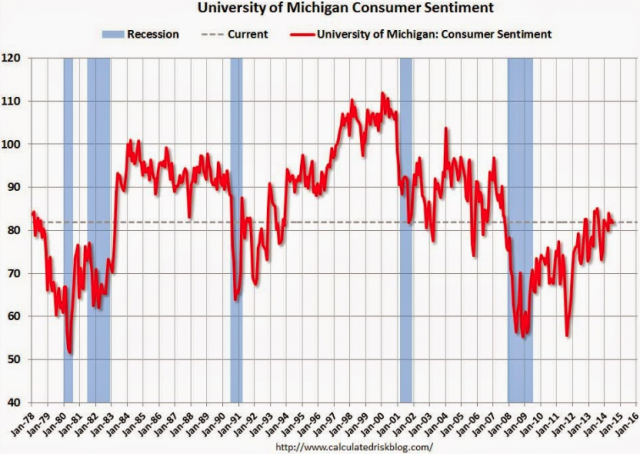 Consumer sentiment continues to experience its fair share of volatility. After climbing higher in June, the index declined in July as Americans are still having trouble believing in the current economy. According to Thomson Reuters/University of Michigan's final reading, consumer sentiment fell to 81.8 last month, compared to a preliminary reading of 81.3 and a final June reading of 82.5.
The results were slightly better than expected. On average, economists expected the index to climb to 81.5 this month. The consumer gauge has only posted two monthly gains this year, which occurred in April and June. In fact, April was the highest reading for index in nine months. In 2013, consumer sentiment ranged from a low of 73.2 in October to a high of 85.1 in July.
Unsurprisingly, Americans are still cautious about the current state of the economy. "What has recently dominated the attention of consumers is job and income growth. Despite the recent improvement, consumers have yet to take recent economic gains to indicate that more robust growth in jobs and wages will be forthcoming," explains survey director Richard Curtin in a statement.
During the last recession, the index averaged slightly above 64. In the five years before the financial crisis, it averaged almost 90. Consumer sentiment is one of the most popular measures of how Americans rate financial conditions and attitudes about the economy. The University of Michigan's Consumer Survey Center questions 500 households each month for the index.
Current economic conditions, which measure whether Americans think it is a good time to make large investments, were better than expected and rose from 96.6 in June to 97.4 in July. Consumer expectations were also better then estimated but dipped to 71.8 from 73.5. Expectations have declined for three consecutive months.
The survey's one-year inflation expectation came in at 3.3 percent, up from 3.1 percent. Meanwhile, the survey's five-to-10-year inflation outlook edged lower to 2.7 percent from 2.9 percent.
More From Business Cheat Sheet:
Follow Eric on Twitter @Mr_Eric_WSCS