Copper Less Vulnerable Than Silver and Oil in Near-Term
Copper closed Monday at $4.21/lb on the July contract.
Days ago we received news of an unexpected decline in manufacturing activity in China. Its PMI index was 52.9 in April, a slight decline from the 53.4 in March. However, the forecast was for a reading of 53.9. China continues to tighten its policy in an effort to curb inflation and allow for a soft landing in its real estate sector. Measures have been implemented in a steady and gradual fashion. Loan growth has slowed but the CPI has remained stubbornly high. The lack of any slippage in Chinese growth and inflation gives the country a green light to continue to tighten policy.
Copper has struggled in the past few months and now sits near important support at $4.20.
Stockpiles of the metal at the London Metal Exchange are up 33% in just the past five months.
Sentimentrader.com's public opinion is 47% bulls. Open interest has declined materially in the last several months and is at a 10-month low.
Turning to the chart we see that Copper recovered on Monday but that does not reverse or repair the technical breakdown from the previous week. If the market is unable to regain $4.20 then the trend continues to be bearish. Also the price action indicates a potential distribution top which projects down to $3.75. Note that $3.70 is the next solid line of support.
The metal is in a somewhat precarious position in the short-term lacking a catalyst and showing a negative technical setup. Relatively speaking, Copper is less vulnerable in the near-term than Commodities such as Silver (NYSE:SLV) and Oil (NYSE:USO) which have benefited from hot-money inflows.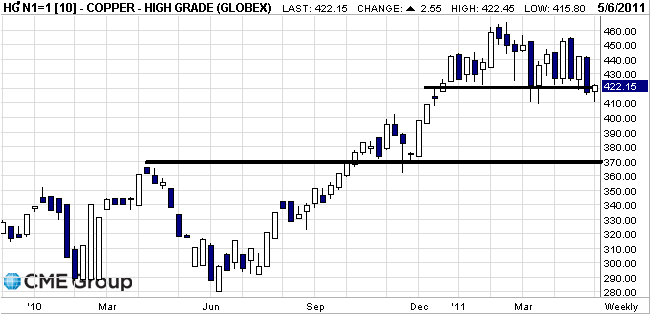 Jordan Roy-Byrne, CMT
Another great read: Gold & Silver Premium Vastly Outperforms with 86.5% Return in 2010>>