Copper Prices Appear to be Cautiously Range-bound
Copper for May delivery is higher by almost half of one percent to $4.31/lb. In recent weeks Copper has rallied along with most markets, following a small rebound since the Japan-led selloff. Copper will close down for the quarter for the first time in three quarters.
The cause hasn't been anything overly specific or obvious. Most risk assets ran into resistance and sold off further on the Japan (NYSE:EWJ) news. The US Dollar has been weak but it is trying to bottom. We note that various sentiment surveys show extreme bearishness and thus the potential for a rebound. Note that treasuries have already rebounded.
Also, China (NYSE:TLT) has been tightening policy. ICBC, the largest lender in the world by value, expects loans to grow at the slowest pace in three years. Meanwhile, inventories have been building. In the last several months inventories of Copper at the London Metal Exchange have risen from 350K tons to 440K tons.
That being said, many analyst remain positive on the fundamentals of Copper. According to the International Copper Study Group, refined copper usage is expeted to grow 4.5% this year while output will gain 1.1%. It will result in a 435K ton shortfall and deficit of 2%. Stockpiles have been building, prices are high and any economic weakness will put a dent in demand.
Turning to the charts, we note that Copper bounced from $4.10 and rallied up to $4.45. However, the market was turned back at $4.45. In the near-term the market appears to be in a range from $4.20 to $4.45. Further weakness will put pressure on support at $4.20. Looking several months out, if weakness continues, then keep an eye on $3.70 as larger support.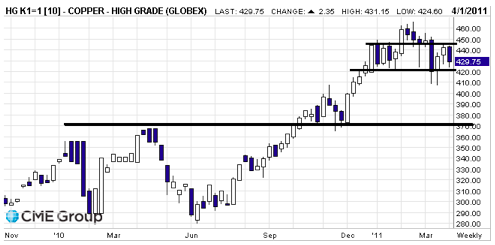 Jordan Roy-Byrne, CMT
Another great read: Gold & Silver Premium Vastly Outperforms with 86.5% Return in 2010>>