Copper Prices Reach Critical Juncture
Copper for May delivery is lower by 1% to $4.21/lb.
Last week we learned that Copper production in China (NYSE:FXI) climbed to record. That news comes as the government continues to tighten credit in effort to curb inflation, real estate speculation and an overheating economy. Output rose 24% year over year in March. It was a monthly record as the Chinese economy expanded 9.7% in the first quarter. However, inflation accelerated at its fastest pace since 2008.
That negative can be contrasted by the weak US Dollar which continues to trend lower, albeit very gradually. The US Dollar index is very oversold and is nearing long-term support at 74. We should also note that the trade-futures daily sentiment index shows only 5% bulls on the US Dollar. The speculative money is heavily positioned against the greenback in the futures market. The market has the potential for a solid rebound since everyone is lined up on one side of the boat. A rally in the US Dollar would obviously be negative for Copper.
Also, stockpiles of Copper at the London Metal Exchange have surged about 29% in only the last four months.
Turning to the chart, we see that the market has reached a critical juncture. $4.20 has been weekly support for about five months. Now it is being threatened. A weekly close below $4.20 would constitute a technical breakdown. The initial downside target is $4.00 followed by $3.70, which is strong support.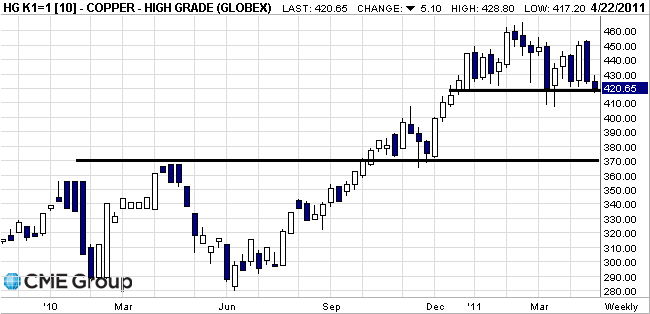 Jordan Roy-Byrne, CMT
Another great read: Gold & Silver Premium Vastly Outperforms with 86.5% Return in 2010>>